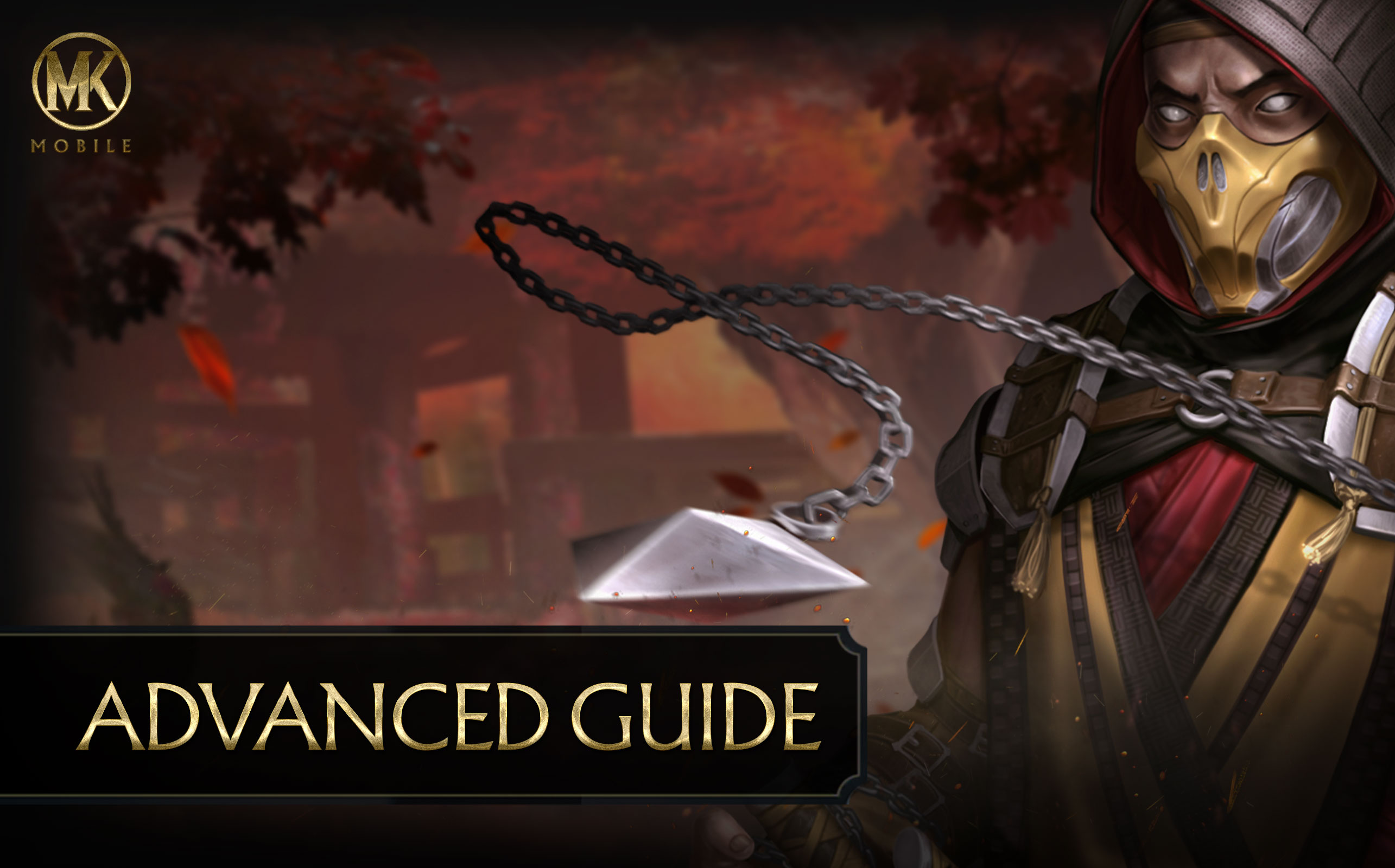 Been playing Mortal Kombat Mobile for a good while now and looking to be the best? Here are some helpful tips to improve your Kollection and take you to the top!
Quick navigation
Look to La Luna! A surprise character awaits in Quest Mode… Klassic Reptile!
Relic Hunt and Shao Kahn
In order to Resurrect Shao Kahn and add him to your Kollection, you'll need to collect Spirit Fragments. These can be found in Shao Kahn's Tower and during the Relic Hunt, a limited time event.

During the Hunt, you'll choose a single team of characters for each of the five towers, and the damage they take carries over to the next fight. The towers come with conditions for who can compete and are VERY challenging.

Complete the Tower and you'll earn Koins, Souls, Spirit Fragments, and other rewards.
Once you collect enough fragments you'll be able to resurrect and unlock Konqueror Shao Kahn, a Diamond Kard. Continue to amass more fragments to fuse this powerful Kard!

Please note the Relic Hunt event will not show up for players who have him at Fusion Level X. For more details on the Relic Hunt, please see this article Here.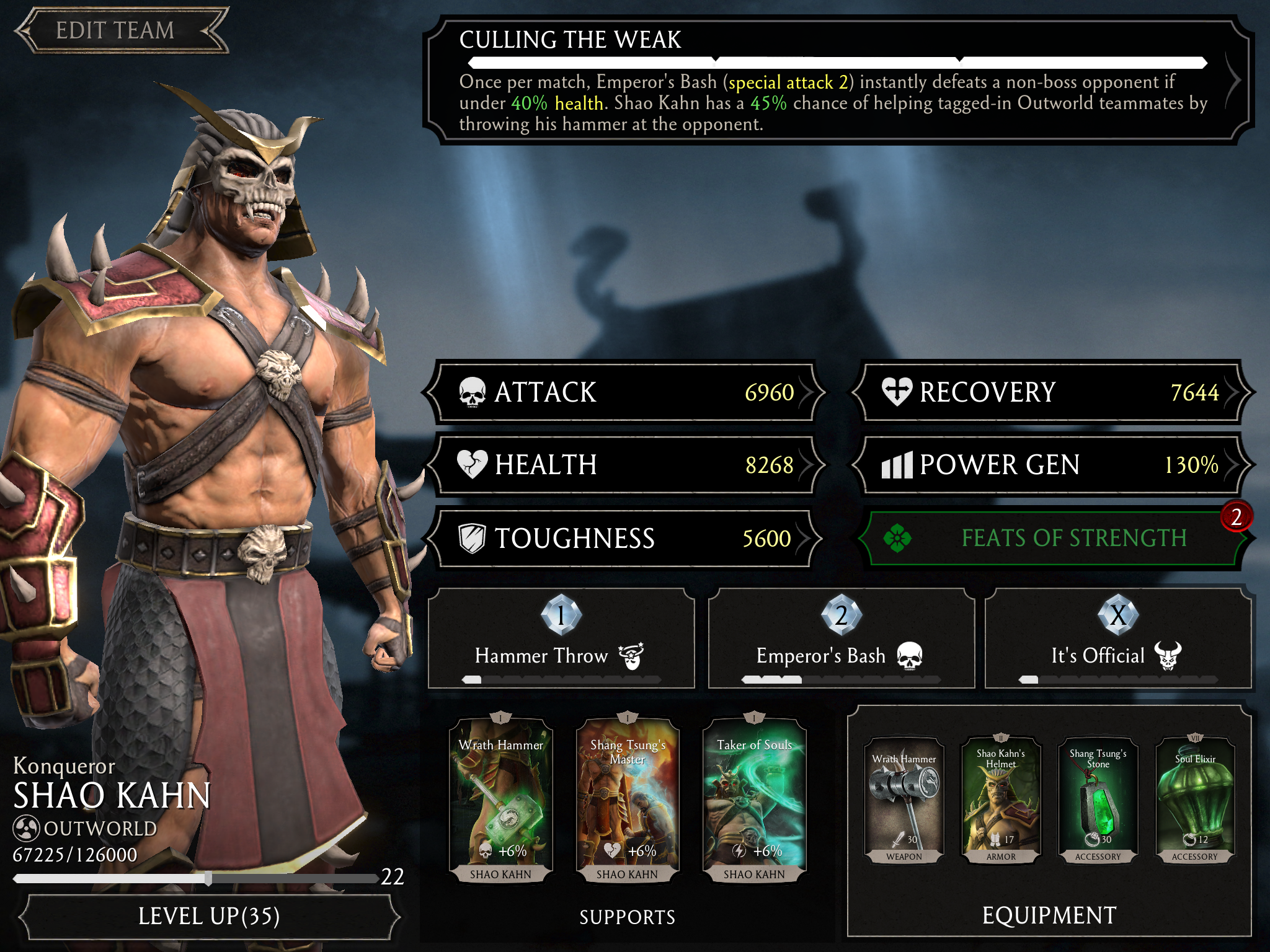 Event Towers
Event Towers have arrived in MK Mobile! The latest being the "Tower of Horror" for Halloween 2019.
These towers are similar to Shao Kahn's Tower in that they have 100 levels and can be played up to 3 times every 8 hours.

Event Towers will have their own Energy that can be recharged using Souls.

Energy is exclusive to the current event and will not carry over between featured Towers.
While Event Towers do not offer Shan Kahn fragments or Talent points, you can earn a chance at a NEW!! Diamond Black Dragon Kabal kard, special Halloween equipment for your kombatants, Koins, and Souls. This equipment will also be available to purchase in the store throughout the event.
For more details, please see our Towers FAQ , Here.
Look to La Luna! A surprise character awaits in Quest Mode… Klassic Reptile!
To add Klassic Reptile to your Kollection, another Diamond Kard, you will need to collect his eyes in Quest Mode.
You can only collect Reptile eyes from Quest Mode during certain times- look for the moon in the upper right of your map!

Once you've collected enough eyes a secret tower will appear and you can challenge Reptile to a fight in the Pit.

After you've defeated Reptile, you can challenge him again to obtain more copies of his Kard, but you will need to collect increasing amounts of eyes each time.
Even when you are not collecting Reptile's eyes, it's a good idea to make sure you have as many quests active as possible as they're a great source of Souls and other rewards. A quest's duration can be as short as an hour and as long as a day, so plan your teams accordingly. Remember: you can still use characters who are on quests in Faction Wars!
Faction Wars
The rewards from Faction Wars are simply too good to ignore: Koins, Souls, XP, Blood Rubies, exclusive character Kards and equipment, plus more! While you'll want to do a Quick and Normal Battle each day for your Daily Objectives, keep in mind that Hard and Fatal Battles offer even better rewards if you are up to the challenge!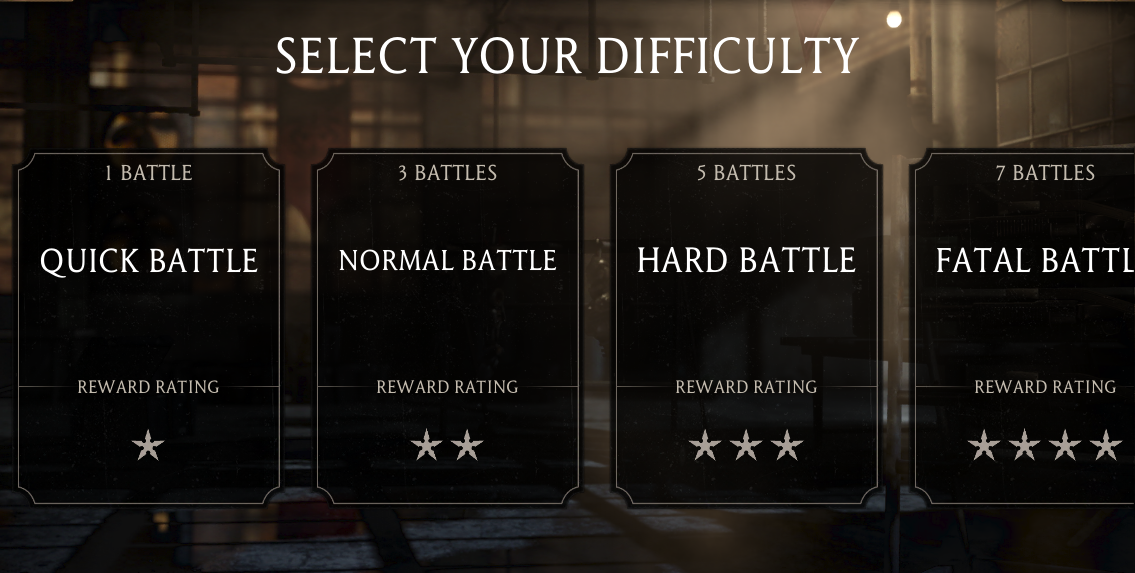 You can see where you stand on the Leaderboards at the bottom of the Faction Wars menu. Keep in mind your position can change at any time as other players compete in Faction Wars, so the reward you see for your current rank may not be what you end up with when the season ends if your rank changes.
Hard Mode Challenges
Once you clear the Normal Towers of a Challenge, the Hard Mode version of that Challenge will be unlocked, allowing you the chance to obtain a copy of the character Kard to fuse and gear specific for that character.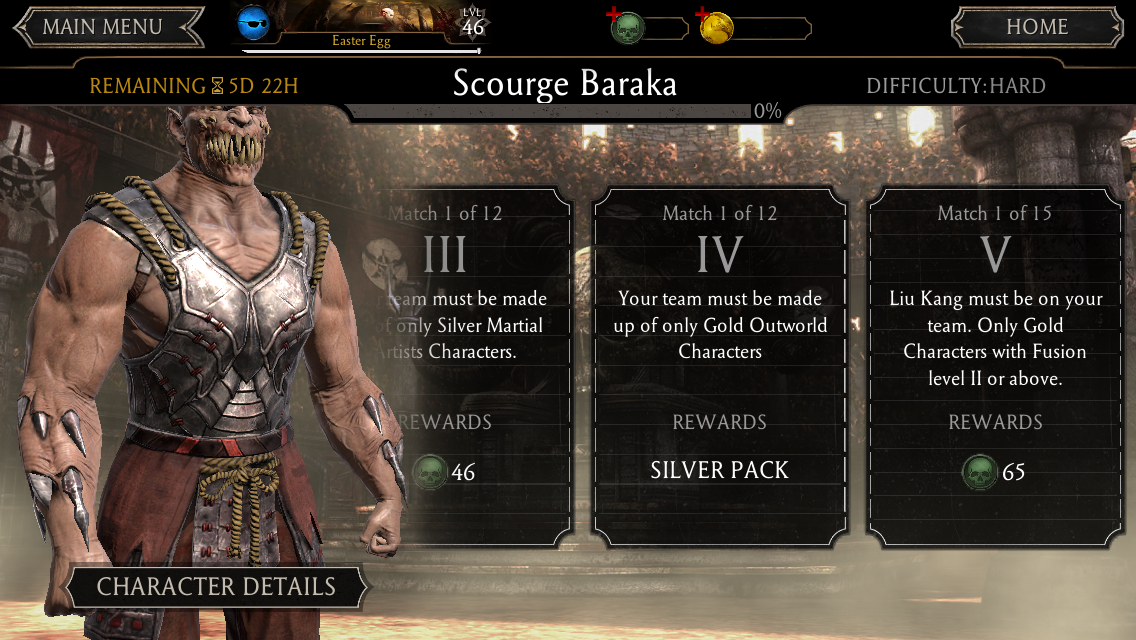 If you can't see the latest Challenge, trying clicking into a game mode from the Main Menu, and then going back. If that still doesn't work make sure to update your OS, check the app store for updates to the game, close the app, clear your cache, and try again.
NEW! Elder Challenges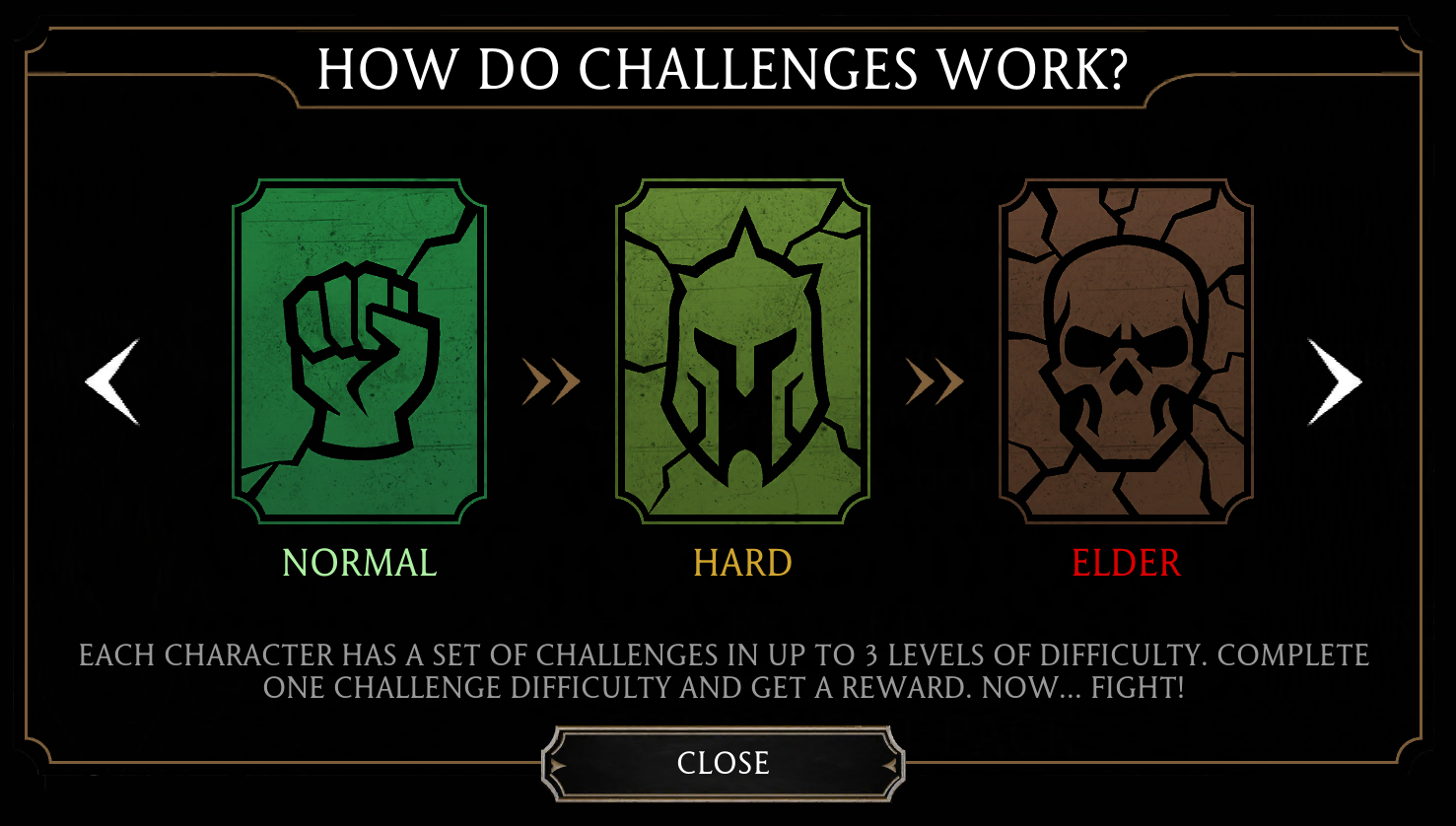 New to MK Mobile in the 2.2 update are Elder Challenges. Access these challenges by completing the following.
Successfully cleared the Normal and Hard difficulties

The portal to Elder Challenges will unlock.

This new mode will test your might in a whole new way, requiring a diverse character kollection and skilled kombatants to clear.
As with other Challenges, each tower you complete will grant you a reward, and clearing all of the Elder Mode towers will award you with the card of the Challenge character.
Standalone Elder Challenges are also available for MK11 Jade and MK11 Raiden in replacement of the previous Trial mode. These Challenges start at the Elder difficulty and do not have a Normal and Hard levels.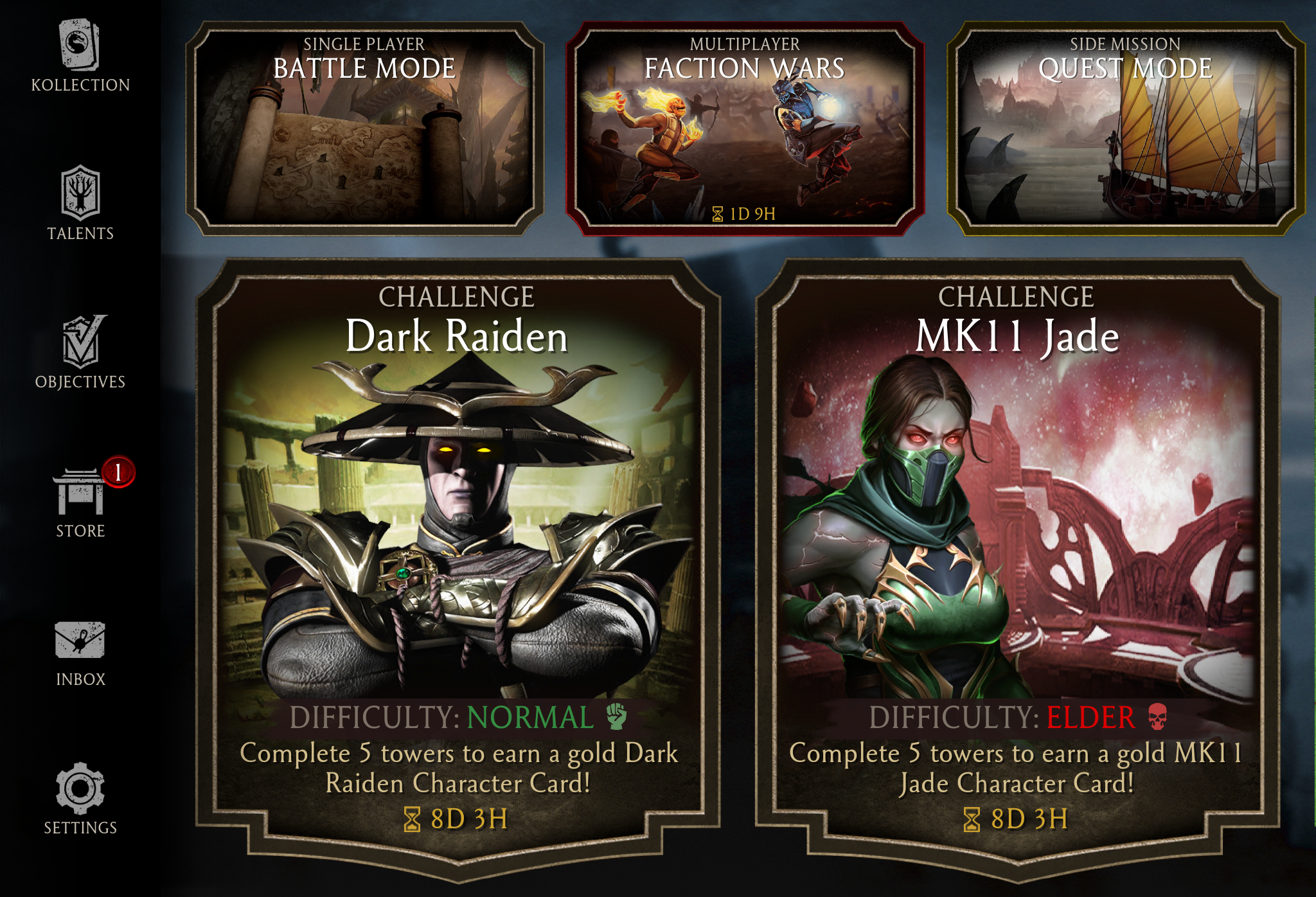 You'll even still get to train with the MK11 Gold characters in their Elder Challenges before you add them to your roster!
These special kombatants will only join you for the first 10 matches of the first ladder

You will need to clear the rest with characters from your kollection.

Any Elder Challenge for a new character will also include special kombatants who will aid you in a similar method.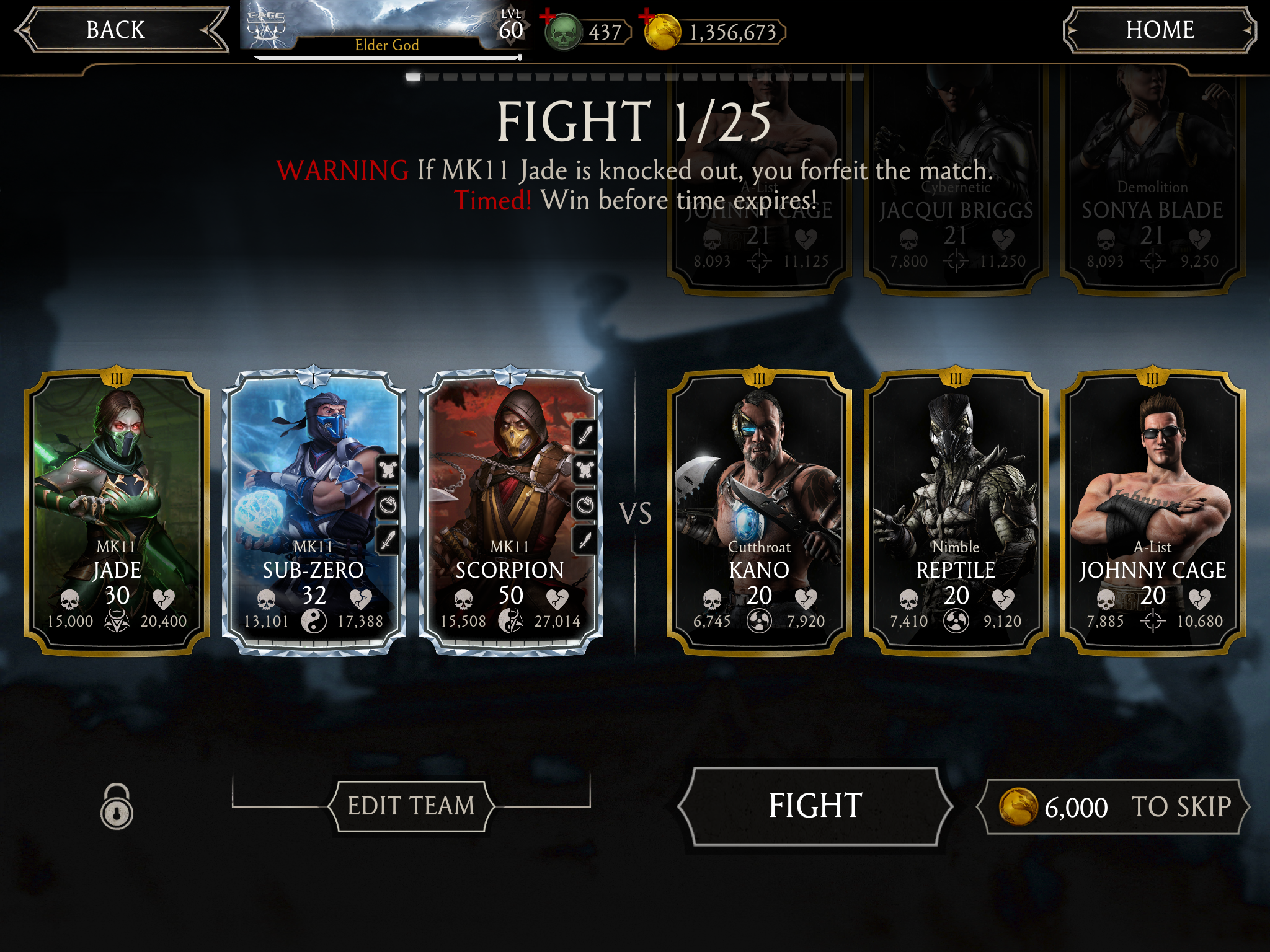 Feats of Strength
Not only do Feats of Strength give you some stylish icons, victory stances, titles, and more, they also unlock permanent stat boosts for your Gold and Diamond characters.
Each character has different Feats they need to perform.

Remember to keep an eye on what you need to do in order to unlock the next tier, as they may influence what modes you want to play and even what special moves you may want to perform!

Underneath the Feat progress bar is a button that will take you to a mode where you can complete that Feat.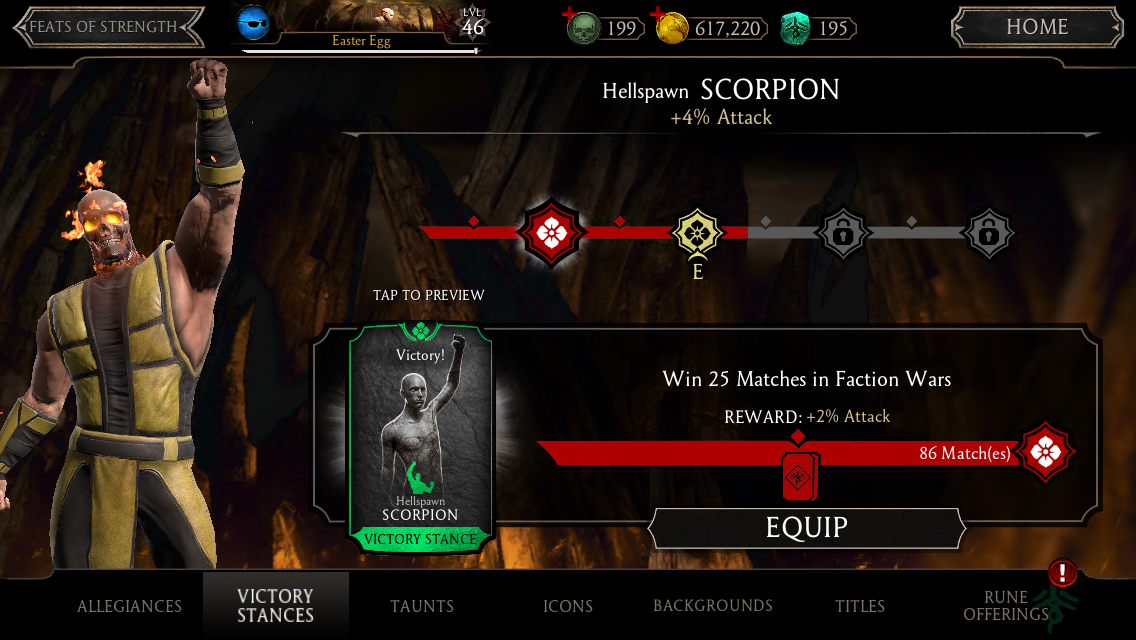 Underneath the Feat progress bar is a button that will take you to a mode where you can complete that Feat.
Join the Kommunity
With the advice in this and the other guides, you should be ready to best any foe that steps in your way.
Good luck Kombatants and remember to back up your save! https://go.wbgames.com/MKmsave
Other Guides
Need to get back to basics? Check out our Beginner Guide: https://go.wbgames.com/MKmbegin
Have to take a step back to review? Head on over to the Intermediate Guide: https://go.wbgames.com/MKminter
Excited to learn about assembling power teams? Check out our Team Synergy Guide at: https://go.wbgames.com/MKmSynergy