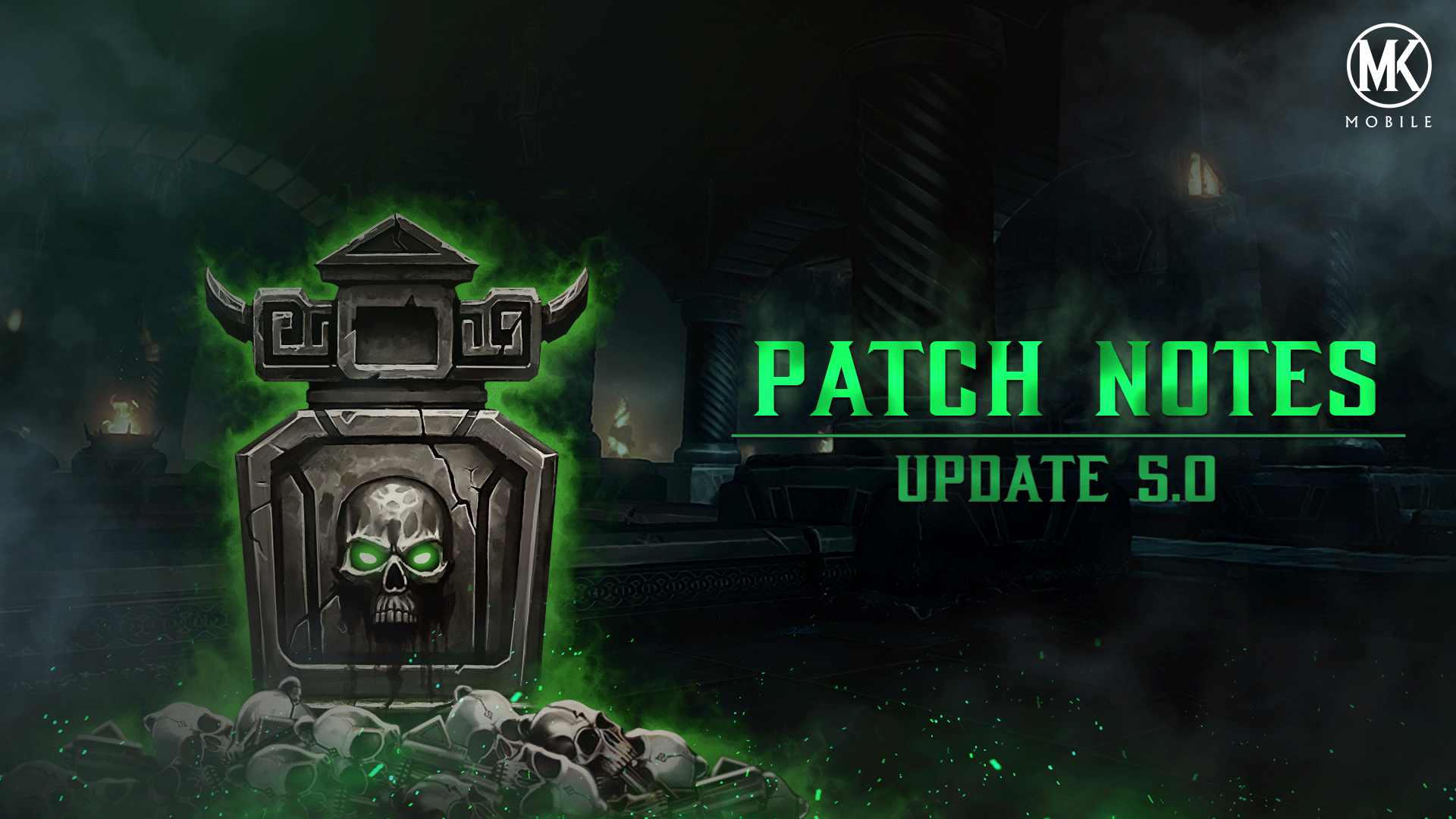 Welcome to Mortal Kombat mobile's massive summer update!
Table of Kontents:
NEW GAME MODE: THE KRYPT
Introducing a brand-new game mode! Choose your own path and travel through The Krypt to find out what is beyond the Fog. Explore and fight through the map to earn never-before-seen currency called Krypt Hearts. Hearts can be spent exclusively in the new The Krypt Store to obtain featured Diamond Fighters! Begin your journey today. Learn more about this game mode through our Krypt Guide!
NEW FRIENDSHIP & BRUTALITY
Discover new Equipment sets in the depths of the Krypt! Krush your enemies with Quan Chi's first-ever mobile Brutality by equipping Necromancer's Forbidden Book and Death Favor and dazzle your foes with Shang Tsung's Friendship by equipping the new Enigmatic Lantern and Well of Souls!
KLASSIC MOVIE TEAM IS KOMPLETE
Klassic Movie Sonya Blade will enter the fight this July straight from the 1995 Mortal Kombat film! This new Diamond fighter features Bridgette Wilson's character likeness & voice from the classic film and is the third and final member of the nostalgic Klassic Movie Team! Team her up with Klassic Movie Raiden and Klassic Movie Johnny Cage to unleash their full potential!
NEW KOMBAT PASS SEASONS
It's time to get back on the pitch! Ascend Kombat Cup Johnny Cage through the newest Kombat Pass Season and prepare for another season debut later this summer.
NEW CHALLENGES
Get ready to konquer two new Klassic Character Challenge events, starting with Klassic Noob Saibot!
QUALITY OF LIFE IMPROVEMENTS
ENHANCED COMBAT EFFECTS INDICATIONS
We've done a major overhaul of the presentation of Combat Effects during the battle to make them clearer and more readable.
Buffs and Debuffs are now visually distinguished by different colors, allowing you to quickly assess their impact on gameplay.
Timers were added for each effect, ensuring you're aware of their duration.
The Combat Effects Stacking system has been remade to make it more consistent for all of the Equipment effects and Passive Abilities in the game.
KLASSIC MOVIE TEAM COMBAT SEQUENCE IMPROVEMENT
The Gesture Log system has been added to the Combat Sequence mechanic.
This system will let you see the combination of gestures you input during the Combo Sequence, making it more readable.
BUG FIXES AND OPTIMIZATIONS
CHARACTERS
Fixed Kombat Cup Johnny Cage's infinite Stun of tagging-out characters.
Fixed a bug where a Stun would transition to the next tagged in Character if the active Character was KO'ed by an Attack that applies Stun.
Fixed a bug with Lizard Noob Saibot's Resurrection where it would not trigger if the opponent was KO'ed by Noob Saibot's Special Attack 2.
Adjusted the Venom Deck of Ace of Knaves The Joker to block enemy healing under the Joker's Juice debuff.
Fixed a bug where a Character could not tag in if they were KO'ed by Klassic Movie Johnny Cage and saved by Strike Force Scorpion.
Fixed a crash related to Klassic Movie Johnny Cage's Combo Sequence if Special Attack was triggered just before the start of the animation of the Combo Sequence.
Fixed Klassic Movie Raiden's Team passive "+50% damage boost for Basic Attacks" also working for Special Attacks and X-Ray Attacks.
Fixed a case where Noob Saibot's Special Attack did not apply Death Mark if the damage of the Special Attack was fatal.
Fixed Black Dragon Kabal and MK11 Kabal's tag-in attack being able to stun tagging-in opponents.
Fixed Klassic Movie Raiden not being able to accumulate energy during the opponent's Resurrection animation.
Fixed a bug where Morphed MK11 Shang Tsung would not get Regeneration from abilities of the Opponent which Shang Tsung is morphed into.
Fixed a bug with Characters becoming invincible if MK11 Kabal tags in during their Resurrection.
Fixed an Autoplay behavior of Ace of Knaves the Joker where the Joker would only throw the Kard if the Opponent can be KOed with it.
EQUIPMENT
Fixed a bug with Cheating Death using God's Helper Tanuki, Edenian Bracelet and Jinsei Hat Equipment would neutralize the last damage dealt by the opponent.
Fixed the second Effect of the Frost Mask Equipment where it would not apply Frostbite.
Fixed an issue related to Tsukumogami Demon's Fire where Signed Special Attack could heal Erron Black.
Fixed a bug related to Varmint's Ace in the Hole where the Fusion X effect wouldn't save the user under a Death Mark.
OTHER
The Mystery Pack for ad watch rewards has been updated to contain Krypt Keys and Krypt Konsumables.
Fixed an issue where Friendship could not be triggered in some cases.
Fixed a blocker that happened after watching specific ADs.
Open Fail - After much investigation and testing we have implemented a fix that we believe will resolve the Open Fail Bug. We will continue to monitor reports to ensure the issue is fully resolved. Thank you all for your patience.
UI IMPROVEMENTS
Fixed an issue with the notification always being visible on the Special Offers Store tab.
Fixed a text in the description of the Elemental Warriors Pack which stated that the Klassic Scorpion was Diamond instead of Gold.
Adjusted the Easy Die FX description to better reflect how this effect works.
Fixed incorrect Character name - Kitana - mentioned for the requirements of Tanya's Feats of Strength task completion.
As always thank you for playing Mortal Kombat mobile!