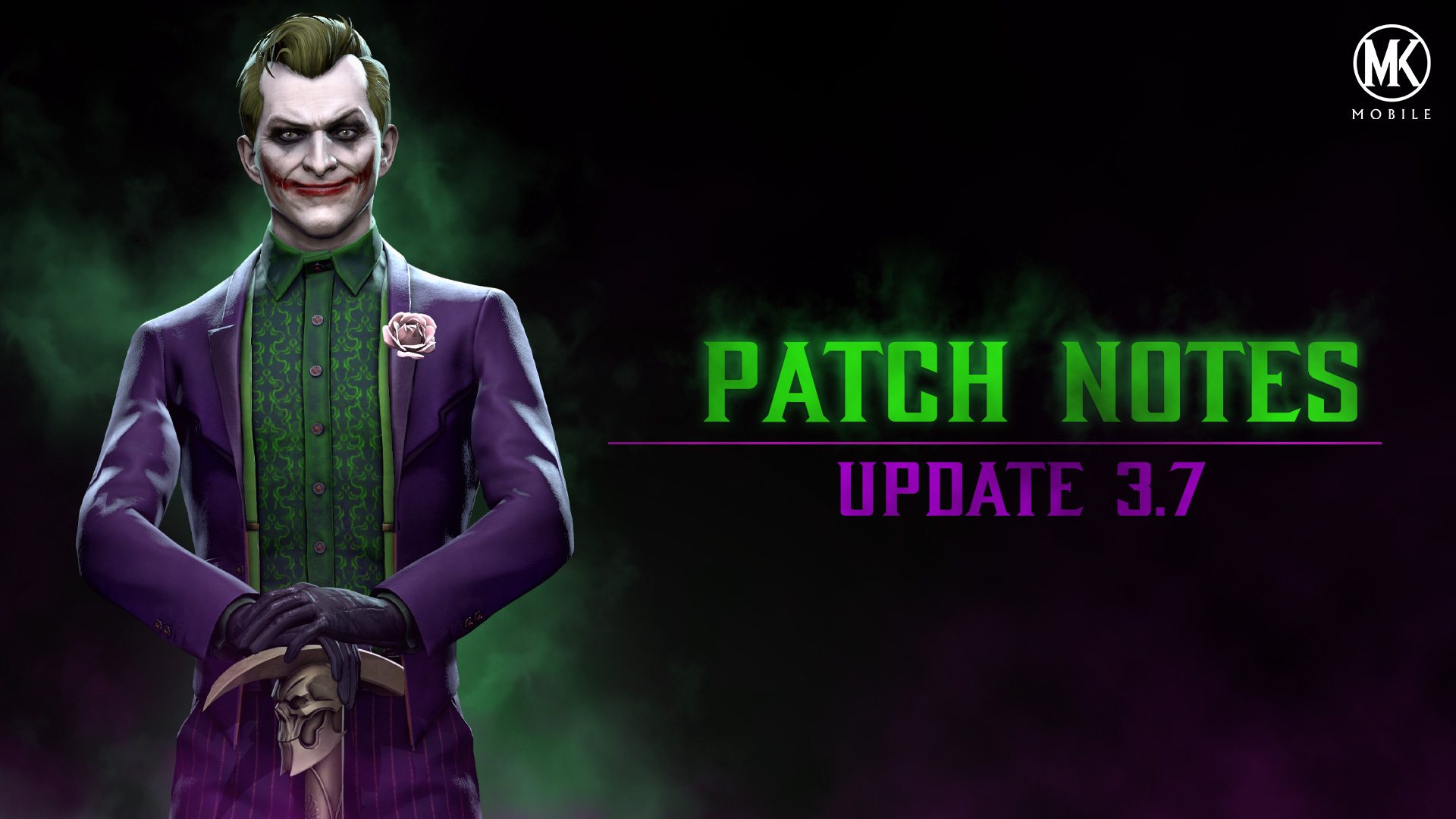 Table of Contents
UPDATE 3.7 – PATCH NOTES
NEW! ACE OF KNAVES THE JOKER
Introducing the latest Diamond fighter, Ace of Knaves The Joker! Unpredictable, violent and incredibly dangerous, The Joker is chaos personified. He owns three decks of cards, each with their own devastating abilities. He chooses one deck every time he enters a fight and then in true Joker style, chaos pursues. Intoxicate your foe with "Joker's Juice" or electrocute your enemies with The Joker's Buzzer. Don't miss the chance to add this special Kombatant to your kollection this June!
NEW! TWISTED TOWER & EQUIPMENT
Welcome to The Joker's Playground! Venture into the new Twister Tower at your own risk to find unusual bosses from teams like Day of the Dead, Kombat Cup, and even Ace of Knaves The Joker himself. Konquer this special Tower to earn a guaranteed Diamond or Kombat Cup Cassie Cage with increased chances of MK11 Sindel and Day of the Dead Kitana. Plus, earn a rare piece of the new Twisted Tower Equipment!
NEW! BRUTALITIES
Introducing SINDEL and TERMINATOR Brutalities! Shatter your opponent's eardrum with MK11 Sindel's mobile Brutality debut and terminate your foe with Terminator's devastating ending move! The new Brutality Equipment sets are available by fighting through battles in the Twister Tower, and through upcoming various store offers. Available for Diamond variants only.
QUALITY OF LIFE IMPROVEMENTS
Introducing Trials! We have updated the Daily Objectives with new optimized UI and a notification system that introduces Trials. Each Trial will consist of different tasks with valuable rewards. More Trials to come in future!
OPTIMIZATIONS AND BUG FIXES
CHARACTERS
Fixed the slow down effect of MK11 and Black Dragon Kabal's attacks
Fixed Nightmare Freddy Krueger's Shield not being activated on Special Attack 2 if the opponent was KO'ed
Fixed an issue where MK11 Fujin continued the sequence of Combo Enders when Ice Clone had been triggered, which resulted in a lack of debuff on the returned opponent
Fixed team passive of Ronin Kenshi where he should receive an additional 30% for every Ronin teammate against Martial artists
Fixed Aftershock Tremor being able to Stun an opponent with his Special Attack 1
Fixed the progression blocker when Assassin Jade dodges Thunder God Raiden's Special Attack 2
Fixed tag-out timer length after Goro Klassic tags-in
Fixed an issue where Klassic Reptile's Poison DOTs from Special Attacks were able to stack
Fixed an issue where in some cases opponent's Dispel could remove Baraka's Team Passive ability
Fixed the Black Dragon Tremor's first mini-game not being shown while performing Special Attack 2
Fixed Kombat Cup Cassie Cage's passive not being triggered when she tagged in at the end of MK11 Shang Tsung's passive
Fixed Dark Fate Terminator's tag-in attack not dealing damage after Assassin Jade's tag-out
Fixed Dark Lord Kotal Khan's passive not working after opponent's Black Dragon Erron Black's passive was triggered
Fixed Nightmare Leatherface's passive not triggering after Black Dragon Erron Black stunned the opponent
EQUIPMENT
Fixed Specter's Burning Vengeance's Fusion X effect triggering when any teammate was KO'ed
Added and fixed missing character bonuses for Characters in Survival Mode
Fixed Varmint's Ace in the Hole issue in the case where Opponent Day of the Dead or Black Dragon Erron Black equipped with Varmint's Ace in the Hole could take damage during the Evasion if the previous teammate was defeated with Day of the Dead Erron Black's Special Attack 2
Fixed an issue where Oblivion Effect from Dagger of Spirits Equipment's Fusion X could not be dispelled
Fixed Varmint's Ace in the Hole issue where the wrong VFX was used during the Evasion
Fixed props remaining in the area if a Character was KO'ed by Special Combo Ender
UX​/UI
Fixed 'Rechange' button from staying visible after loading a new team
Removed darkened screen areas from X-Ray/Fatal Blow screen
In-game notifications system has been updated with a new optimized UI
Growth Packs UI has been revamped
Trials – Daily Objectives system has been reworked to Trials
Kollection - "No Tower" option is added to the "by Tower Set" filter
UI – Updated tab bars appearance
OTHER
Removed the audio "Get over here" during Klassic Smoke's Special Attack 1
Fixed The Art of the Tsunami Talent's description
As always, thank you for playing Mortal Kombat mobile!