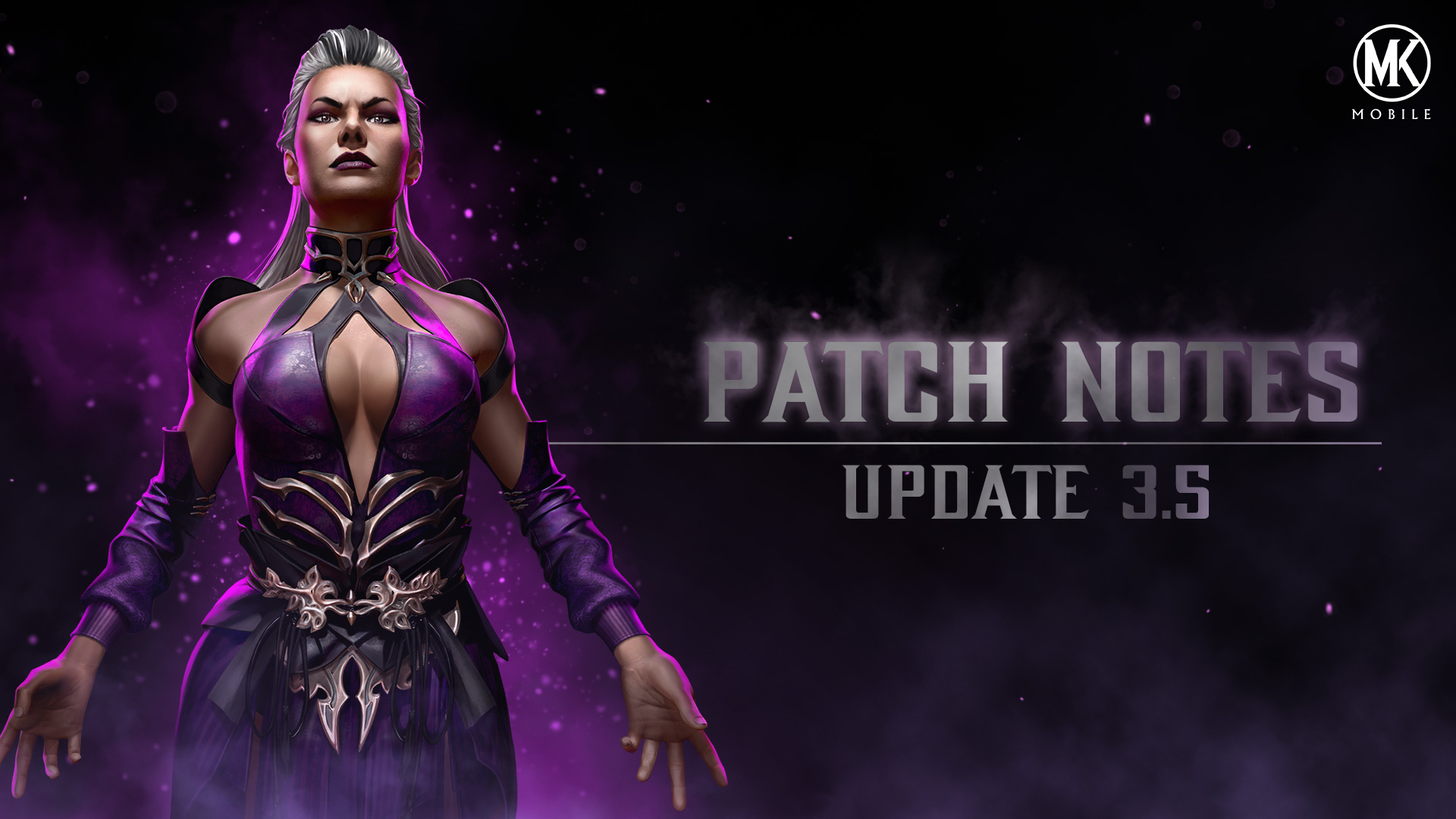 Table of Contents
UPDATE 3.5 PATCH NOTES
NEW! MK11 SINDEL
Voted one of the most wanted characters by the community, Diamond MK11 SINDEL makes her mobile debut in update 3.5. The former Queen of Edenia will stop at nothing to keep her place of power and privilege. Her mystical abilities make her one of the strongest damage dealers on the MK11 team. Sindel's deadly banshee screams can be heard throughout the realms, Weakening and Slowing her opponents, and making them Bleed. At your request, Sindel can counter-attack her enemies with a move that applies Stun. Build a strategy and request this wisely. Play as the Dark Queen and make your enemies kneel before you.
NEW! DARK QUEEN'S TOWERS
History took its toll on Sindel but when tempted with more power and privilege she turned her back on almost everyone. The new DARK QUEEN'S TOWER takes place in the past when Outworld invaded Edenia. Jerrod and Sindel had ruled Edenia for thousands of years, but Shao Kahn had other plans. Now you're right in the middle of the Edenian war. There's no time to choose sides, fight off the Edenians and Outworlders to survive. Reach the top to earn a guaranteed Diamond Character with a chance at MK11 Rain. Kollect new Dark Queen's Tower Equipment cards along the way to ensure your survival. Available now for a limited time only.
NEW! BRUTALITIES
Diamond variants of MILEENA and JAX debut their mobile Brutalities in update 3.5! Unlock these battle-ending moves through the new Dark Queen's Tower Equipment to win the fight immediately. Crush your enemy's skull with Mileena's Tele-Splat finisher and blast your foes into the air with Jax's bazooka to watch them explode! The new Brutality Equipment sets are available by fighting through the battles in the Dark Queen's Tower, and through various store offers.
QUALITY OF LIFE IMPROVEMENTS
Upgrade your Kollection faster!
We introduced an easy way to upgrade and buy things in the game! You can now use sliders to upgrade Characters and Special Attacks for several levels at once, as well as buy Kard Packs and Support Kards in bulk. You will also have an opportunity to open multiple Feats of Strength packs at once!
Adjust the kombat to your liking!
You can choose the format of how Characters' health status is displayed in the battles: the new setting allows you to show either the exact amount of Health points or a percentage of the Max Health. Go to the Settings menu and pick what you prefer most. Also, the Health bar is now highlighted when a Brutality can be performed!
Manage your time precisely!
You can now see the Event Tower expiration timer on the main game interface. You will know exactly when the Tower is going to end and will be able to allocate your resources.
CHARACTER IMPROVEMENTS
Increased MK11 Raiden's chance to Stun on Combo Ender to match the described design.
Updated Kold War Sonya Blade's X-Ray. It now applies Team Power Drain to match the described design.
Terminator Characters received a software upgrade. They now will have shortened action response after tag-in and will be able to start the attack faster.
BUG FIXES
Fixed a bug with Horse Stance talent, that allowed Characters to generate an enormous amount of energy instead of the supposed 2%.
Fixed an issue when Characters evading Bo' Rai Cho's Special Attack 1 disappeared from the fight completely.
Fixed a bug with DOTs that sometimes-dealt incorrect amounts of damage because of the DOT duration time rounding.
Fixed an issue when Strike Force Cassie Cage did not drain 1 bar of Power from the enemy on tag-in. Note that this Power Drain could be empowered by The Torturer Equipment!
Fixed an issue with Ravenous Mileena, who did not perform tag-in attack if she tagged-in simultaneously with an opponent or during an opponent's tag-in animation.
Fixed an issue with Ravenous Mileena, who sometimes did not apply Bleed on tag-in from her Savage Rule passive.
Fixed a bug where Day of the Dead Kitana's passive Regeneration timer did not reset if she killed another opponent while her passive was still active.
Fixed a soft lock issue that appeared if the player tapped the auto-battle button before battle UI appeared.
Fixed a bug with Regeneration effects that were not refreshed if triggered again while being already active. From now on, the Regeneration timer will restart. This affects the following Characters and Equipment:

Unstoppable Jason Voorhees Special Attack 2
Ravenous Mileena
Strike Force Scorpion
Kold War Skarlet
Klassic Reptile
Kraken Reptile
Nimble Reptile
Noxious Reptile
Viper Hood
Dynasty Parade Uniform
UI IMPROVEMENTS
Improved screen touch UI feedback.
Improved UI performance.
Long tap is replaced by swipe in Preset List to prevent accidental Preset Manager opening.