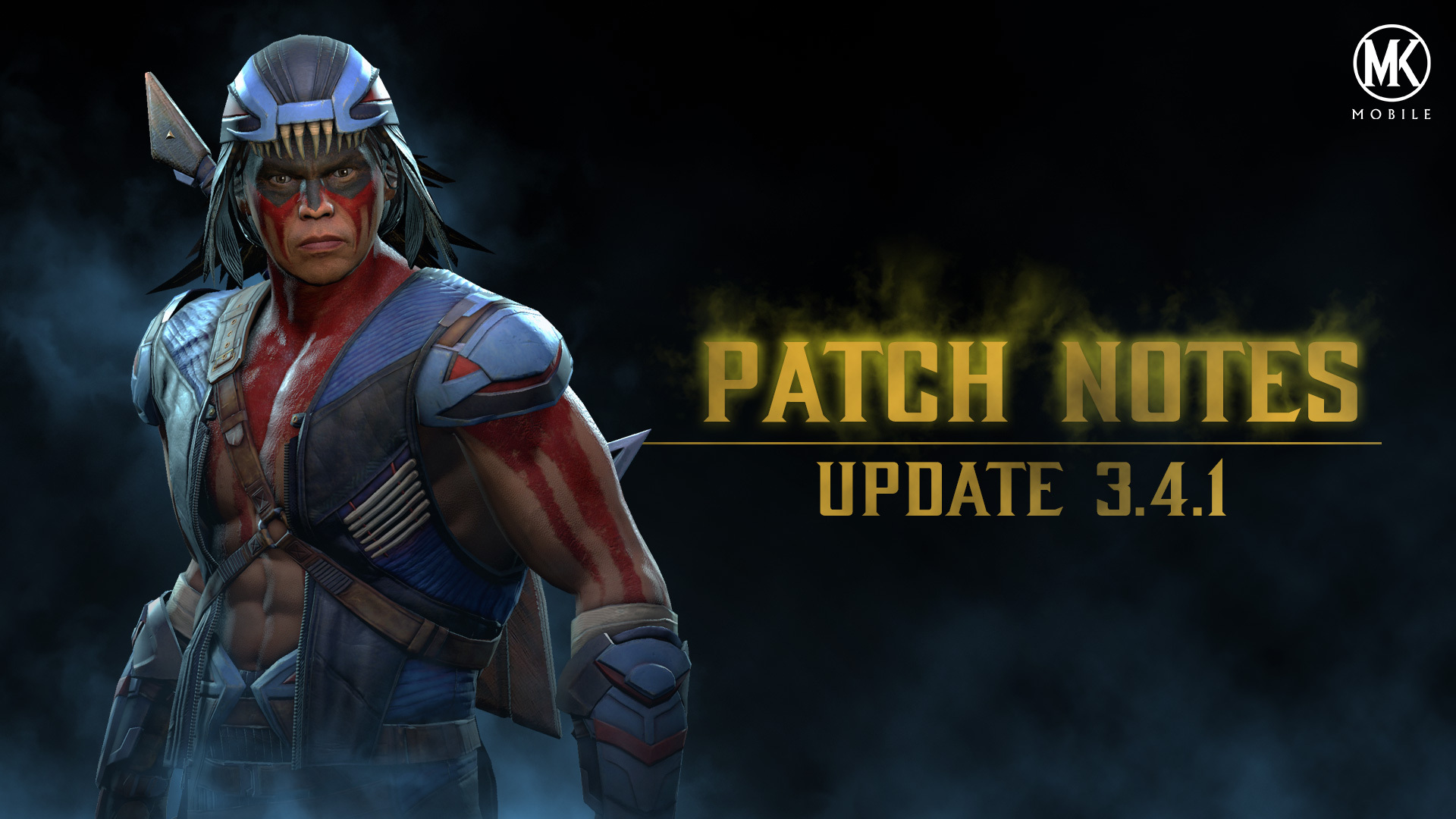 NEW! MK11 NIGHTWOLF
Voted one of the most wanted characters by the community, MK11 NIGHTWOLF makes his mobile debut in update 3.4.1 MK11 Nightwolf possesses extraordinary magic granted by the Great Spirit. He uses this magic not only to fight for Matoka's future but also to defend all of Earthrealm. When MK11 Nightwolf enters a fight, he calls to one of the spirit animals: Kiba the Wolf, Komo the Bear, or Hana the Eagle. Each spirit animal gifts Nightwolf with additional skills to konquer his battles. Play as MK11 Nightwolf and the spirit animals will help your MK11 teammates as well!
NEW! EARTHREALM TOWER & EQUIPEMENT
Introducing the new, limited time only EARTHREALM TOWER! Fight off bosses like Nightwolf, Raiden, and Liu Kang to earn rewards as you climb to the top. Rewards include a chance to get never-before-seen Earthrealm Tower Equipment like Jinsei Hat and The Torturer. Konquer the Earthrealm Tower to earn a guaranteed Diamond character with increased chances of Diamond Klassic Rain, Klassic Liu Kang and Klassic Raiden. Begin your journey into the Earthrealm Tower today!
NEW! BRUTALITIES
JOHNNY CAGE and KUNG LAO debut their mobile Brutalities in update 3.4.1! Unlock these battle ending moves through the new Earthrealm Tower Equipment to win the fight immediately. It's game over when Johnny Cage performs his mic check and let's just say Kung Lao leaves his victims a bit stuck. The new Brutality Equipment sets are available by fighting through the Earthrealm Tower, and various store offers.
QUALITY OF LIFE IMPROVEMENTS
KOMBAT HUD

The "Autoplay" button has been moved to the top of the screen to prevent players from unwanted activation of the Autoplay mode.
Players now can turn the Autoplay mode on or pause the game before battle starts.
Character's tag-in cooldown timer is now shown in HUD. The progress bar color has also been changed for better visibility.
Improved text visibility.
The characters' current and max HP values are now shown in HUD.
The icon of charging ability is now shown in HUD.
Added an additional visual effect when a player has accumulated maximum power (SP3/X-Ray/Fatal blow).
Players can now see that the character has missed.
The minigames with choices have been redesigned to make them more consistent and informative. This update affects the following characters: MK11 Nightwolf, MK11 Shang Tsung, Kosplay Jacqui Briggs.
The minigames with choices now have no more time limit.
Kosplay Jacqui Briggs' minigame - If auto-battle is enabled, the mini-game is not shown and Jacqui will transform into costume that counters active opponent's class, if she can't do it for any reason she will transform into random class.

UI

Upgrade cards in Kollection are now stacked by type.
The attempts reset clock in Event Towers Tiles is now shown up all the time, instead of only if player finished 5 attacks.
Players now can inspect Event Tower rewards in separate Tower Rewards menu.
Added an option to navigate to next or previous character in "Feats of Strength" section when checking individual progress of their feats (like in the Kollection).
Fixed UI elements' Touch Feedback.
Fixed hardware "Back" button functionality.
Minor visual fixes.
BUG FIXES, IMPROVEMENTS, & MORE!
CHARACTERS

Fixed a bug where Klassic Raiden does not apply Power Drain when an opponent blocks his tag-in attack.
Fixed an issue with Klassic Raiden's passive description where it wasn't mentioned that bosses are immune to his ability.
Fixed a bug where Bone Shaper Shinnok's passive triggers on summoned characters.
Fixed a bug where Kold Scorpion's Special Attack 2 does not give him Shield.
Fixed a bug where Injustice 2 Raiden's passive power drain does not work.
Fixed a bug where Sub-Zero Triborg applies Frostbite on the next opponent when the current opponent is KO'ed.
Fixed a bug where Smoke Triborg's Special Attack 1 does not apply Power drain.
Fixed a bug where Black Dragon Kabal's Special Attack 2 applies a buff even when it misses.
Fixed an issue where if player tags-in Aftershock Tremor and taps on Auto-Battle button at the same time the error messages would pop up, blocking the fight.
BUGS

Fixed an issue with Boss Fights where Boss' Health is saved if player quits the battle manually.
Fixed an issue with Boss Fights where KO'ed bosses appear on "You Lose" screen.
Fixed a bug where players could lose a match twice by performing Brutality or Shao Kahn's finishing move on the last opponent.
Fixed an issue with Faction Wars where weak opponents were drawn when Fusion Boost is active.
Fixed a bug in Faction Wars where game would freeze when player changes team by "Load preset" button while the current team has no energy.
Fixed an issue with Talent Tree where players can get more than 100 points total.
Fixed an issue with Talent Tree where Lion Stance does not add damage% to character.
Fixed incorrect work of Ghost Armor talent where it would give a certain amount of Power with chance% instead of giving critical damage% as Power with 100% chance.
Fixed a bug where some opponent characters would not use Special Attack 2 if their Special Attack 1 is disabled.
Fixed an issue with Liu Kang's X-Ray attack where there are sounds of Liu Kang being hit.
Fixed an issue with Cyrax Triborg's Victory Pose where the net's explosion would not show up on the screen.
EQUIPMENT

Bi-Han's Tormentor now reduces power cost of X-ray.
Frost Axe's Basic attack damage boost against enemies affected by Frostbite has been increased from 30-50 to 60-80%.
OTHER

Support cards The Ally: Borai Cho and Ancestor: Great Kung Lao have been swapped between the two characters for correct lore representation.

UI

We have made several kombat improvements to Kosplay Jacqui Briggs, including UI redesign and passive ability description to make her character design more transparent and understandable.
Fixed a bug with incorrect "New" Special Offer counter in the Store.
As always, thank you for playing Mortal Kombat mobile! Make sure to follow the official Mortal Kombat mobile Social Pages for more announcements.