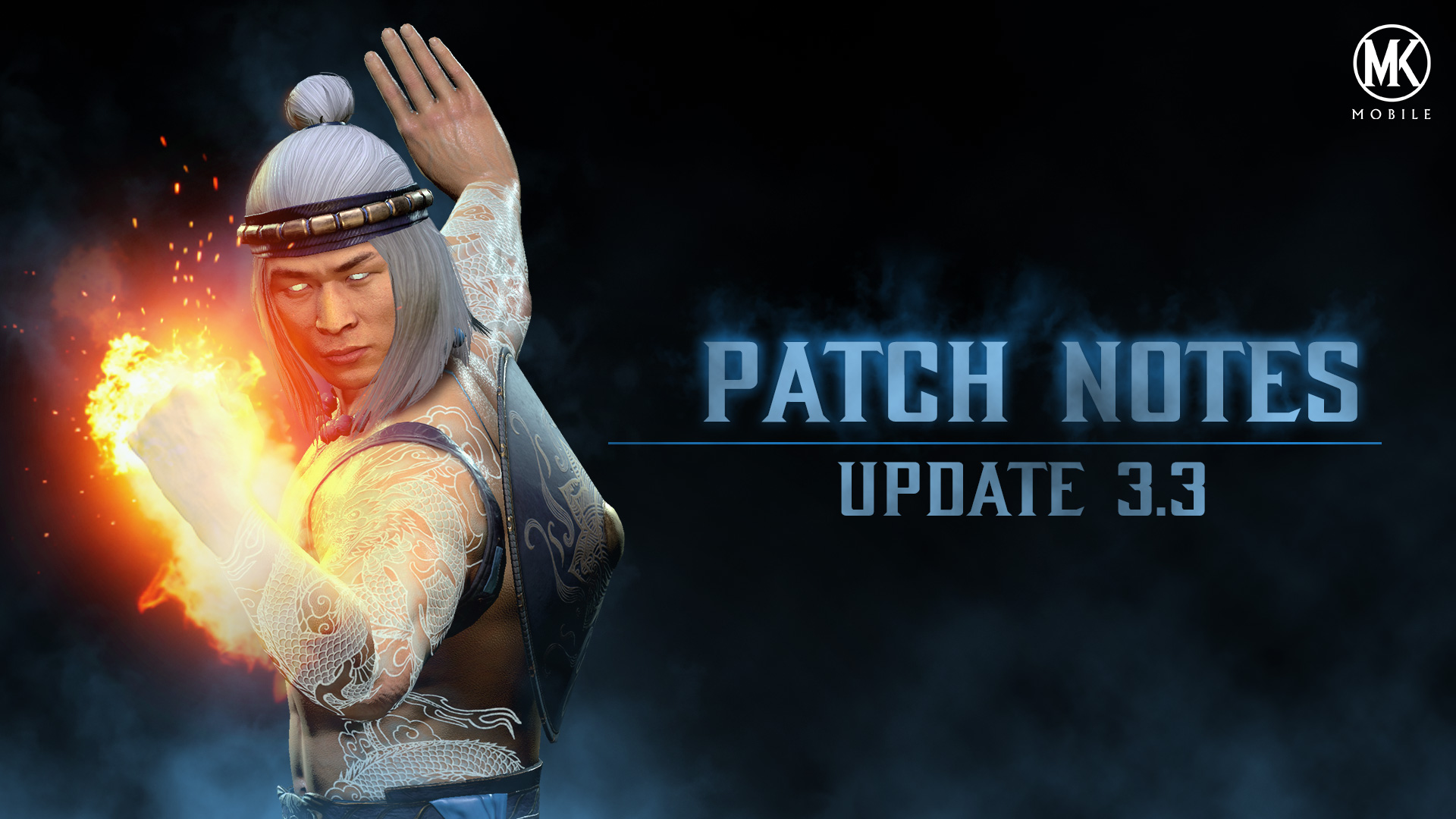 NEW! FIRE GOD LIU KANG
Voted by the community as the most wanted character, Fire God Liu Kang is now officially available in Mortal Kombat mobile! Straight from MK11's story mode, Fire God Liu Kang has the fate of all realms resting in his hands. With Raiden's and Liu Kang's powers combined, Fire God Liu Kang is stronger than ever before. He has the ability to heal himself as the fight goes on by acquiring Dragon Fire whenever he is affected by Fire or applies Fire to an opponent. The more Dragon Fire he acquires, the more powerful he becomes! Get Diamond Fire God Liu Kang now.
NEW! EDENIAN TOWER & EQUIPMENT
Introducing the new, limited time only Edenian Tower event starting this July! Fight off bosses like Rain, Kitana, and Jade to earn rewards as you climb to the top. Rewards include a chance to get brand-new Edenian Tower Equipment like the Edenian Pie and Royal Wine. Equipping these unique cards will give you an additional boost in the Edenian Tower and elsewhere. Konquer the Edenian Tower to earn a guaranteed Diamond character with increased chances of Diamond Circle of Shadow Kitana, Ronin Kitana, and MK11 Jade.
NEW! BRUTALITIES
Rain and Kitana debut their mobile Brutalities in update 3.3! Unlock these over-the-top, gut wrenching moves through the new Edenian Tower Equipment to stop your enemies in their tracks. Roundhouse kick your foe to their demise when you equip Diamond variants of Rain with the new Divine Argus Cloak and Divine Tornadic Pauldron. Unleash Kitana's deadly battle fans onto your victims when you equip the new Dynasty Parade Uniform and Dynasty Mask of Madness. Edenian Tower Equipment will be available by winning battles in the Edenian Tower and various store offers.
QUALITY OF LIFE IMPROVEMENTS
New! Fusion Boost Modifier

Give a boost to your lowest fusion card when you apply the new Fusion Boost Modifier in Faction Wars: Quick Battles! The second highest fusion level of your team will be applied to the lowest fusion level card for the remainder of the match.
New! Pack Opening System Improvements

The new rewarding and pack opening system introduced in 3.2 allowed us to make more improvements based on your feedback. Enjoy the standard sequence, or instantly skip the entire flow at any stage from the beginning to the last card reveal to get a reward summary. There are no more redundant steps, screens, or animations after you close the summary. Thank you for your feedback!
New! Talent Tree Preview and Quick Access

The new Talent Tree Preview allows you to check your opponent's talent trees in Faction Wars! You can also quickly check your talents before and during the fight to better prepare your team with the new Quick Access feature. This is just the start of our work on talents management system. More improvements to come!
BUG FIXES, IMPROVEMENTS, & MORE!
CHARACTERS

Fixed an issue with opponents being able to block follow up attacks after Cyrax Triborg threw a net at them on his Special Attack 1.
There was a bug with Strike Force Johnny Cage, Strike Force Scorpion and Strike Force Cassie where every Power Drain they applied to an opponent turned into Power Steal. We fixed that and now only Power Steal on tag-in is applied.
Fixed a bug where Day of the Dead Kitana could stack Regeneration effect from her Passive when she killed another opponent while Regeneration from her Passive was active. From now on in these cases Regeneration will be renewed.
From now on, Characters affected by Invulnerability are unaffected by DOT damage as well.
BUGS

Fixed a bug with Event Tower mode where player's progress was not reset when the Tower was being re-launched.
Fixed a bug where Bone Shield from Shinnok's Teachings Talent could trigger midway during Special Attacks and result in absorbing some damage.
Fixed a bug with Hellspawn Scorpion's Special Attack 1 that dealt damage only once instead of dealing damage twice.
Fixed a bug where Kombat Cup Sonya Blade could perform Special Attacks without dealing damage to an opponent if Special Attacks were initiated before her passive "Referee" got triggered.
Fixed a bug with Scourge Baraka, whose Special Attack 1 could miss after his extended Combo Ender.
Fixed a similar bug with MK11 Scorpion, who could not perform his Special Attack 1 right after one of the Combo Enders.
Fixed another similar issue with MK11 Raiden and his Special Attack 2 that could miss if it was performed immediately after one of the Combo Enders.
Fixed an issue with MK11 Kabal, who did not fully perform his Special Attack 1 after one of his Combo Enders.
Fixed a bug where Assassin Jade remained translucent after evading opponent's Attack.
Fixed a bug where Klassic Goro did not receive Strengthen buff if he KO'ed an opponent with his Special Attack 1.
Fixed damage text that was not fully displayed for Klassic Raiden's Special Attack 2.
Fixed a bug that caused massive desync of Jade's staff while Jade was being slowed.
EQUIPMENT

Soulsnake Arms now apply standard Invulnerability effect on Fusion X.
OTHER

We updated the Glossary with missing and recently added Kombat Effects.
Fixed a Faction Wars season refresh issue. For some players, a server maintenance or refresh combined with Faction wars season refresh could result in Characters remaining dead and Equipment remaining broken.
Fixed a bug where incorrect opponent Characters could be seen for a few seconds if the player leveled up one of their Character cards in Quick Play Team Select menu.

UI

Fixed a bug with incorrect "New" Special Offer counter in the Store.
Made Pack Opening System improvements. There are no more redundant steps, screens, or animations after closing the summary. The entire flow can be skipped at any stage of the sequence.
Introduced Talent Tree Preview and Quick Access.
The Characters' Fusion level is now displayed on the battle interfaces.
As always, thank you for playing Mortal Kombat mobile! Make sure to follow the official Mortal Kombat mobile Social Pages for more announcements.