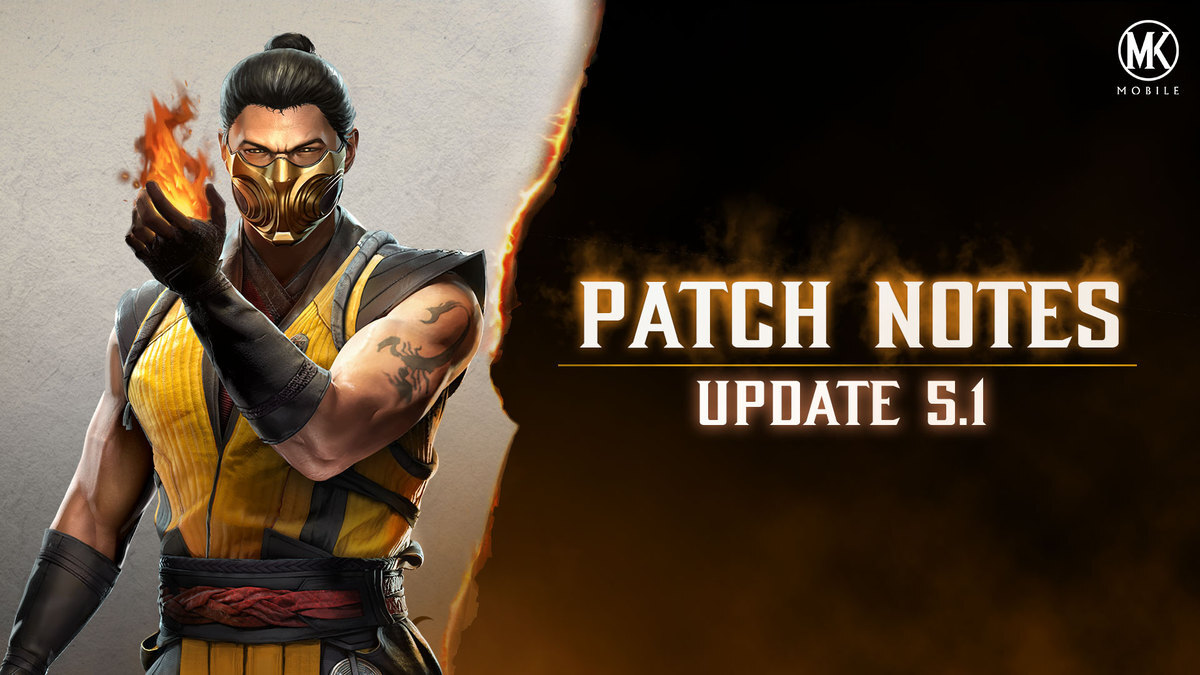 Greetings Kombatants, welcome to Update 5.1!
Table of Kontents:
IT'S IN OUR BLOOD
In celebration of Mortal Kombat's global launch, Mortal Kombat 1 Scorpion has arrived on the Mortal Kombat mobile roster as one of the most powerful Diamond fighters ever released. Ignite Mortal Kombat 1 Scorpion to become invincible and leave your foe scorched by his Wielding Fire. An exciting New Era of gameplay has arrived!
CIRCLE OF SHADOW TEAM GETS STRONGER
In addition to Diamond Mortal Kombat 1 Scorpion, a new member of the Circle of Shadow team will make their debut…NIGHTWOLF! This unique Diamond fighter will debut in time for Halloween. Nightwolf assists your Circle of Shadow teammates while tagged out by tossing in his Spirit Tomahawk!
NEW KOMBAT PASS SEASONS
The next update will include TWO New Kombat Pass Seasons! Slasher Jason Voorhees' Kombat Pass Season will begin in time for Halloween and Grandmaster Sub-Zero's Season will follow as winter creeps in. Get ready to knock out new Trials and Ascend the featured Fighters!
FRIENDSHIP & BRUTALITY MOVES
Rejoice with your favorite evil twin when you unleash Kitana's new FRIENDSHIP and rip off the heads of your enemies with Jason's new BRUTALITY! New Equipment will be available in the Krypt Store.
THREE RETURNING TOWER EVENTS
Jump back into your favorite Tower Events with the return of the Nightmare Tower, Shirai Ryu Tower, Fatal Shirai Ryu Tower, and the Earthrealm Tower! The Shirai Ryu Tower Equipment has been remastered and you will not want to miss the Fatal version now featuring a chance to earn Mortal Kombat 1 Scorpion upon completion.
KUSTOMIZE FOR HALLOWEEN
The Halloween-themed Feats of Strength Kustomization pack will return. Get festive and deck out your profile with spooky War Banners and Icons.
QUALITY OF LIFE IMPROVEMENTS
Kombat Effect Filters: Now you can filter your Characters and Equipment by various Kombat Effects.
UPDATED INBOX MENU
We've given the Inbox Menu a sleek new look, making it more visually appealing and intuitive. In this update, we've introduced three convenient one-tap functions:
READ ALL: Quickly mark all your unread messages as read.
DELETE READ: Easily remove all read messages to keep your inbox organized.
CLAIM ALL: Effortlessly collect all rewards from your messages.
BUG FIXES AND OPTIMIZATIONS
Characters
Fixed a bug where Stun was applied before SP ended.
Fixed an issue with MK11 Scarlet "Rain of Blood" Passive buff not being displayed.
Fixed a bug related to Klassic Jade "Mistress of Bojutsu" Passive buff being able to stack above 50% Speed.
Fixed a bug during Scorpion Friendship where if the targeted opponent tags out, tagged in opponent can be KOed on 100% HP.
Fixed an issue where some Characters Combo Ender can't be performed after the second combination of basic attacks.
Fixed a bug where Boss Dragon Breath Bo' Rai Cho's Passive made him immortal when facing characters all of the same class.
Equipment
Fixed an issue with "Shintai of North" Freeze effect being applied to opponents not affected by Frostbite.
Krypt
Fixed a bug where Player's pin was moved back to the Start Point when re-entering active Krypt run.
Fixed an issue with mobile devices heating in the Krypt.
Added "Fatigue" timer display to Character Cards.
Updated "Fatigue" Icon
Updated Krypt Gateway Menu UI layout.
Added Audio Cues to Konsumable Usage Menu.
Added a 'BATTLE REWARDS' button to Krypt Pre-Fight Screens.
Updated "Enter" button in Krypt Gateway Menu, now it says "Kontinue" if the Krypt run is active.
Krypt Balancing
The number of Floors for each Difficulty have been updated to the following:

Normal = 1 Floor
Hard = 2 Floors
Elder = 3 Floors

Hearts earned from Tombstones and Fights have been adjusted to take into account the Floor adjustments
Hearts earned from Tombstones and Fights now give a random amount instead of the same consistent value
Hearts earned from Tombstones have decreased slightly
Hearts earned from Fights have increased
Hearts earned from Fights give slightly more each Floor
Uncommon, Rare and Epic Tower Equipment from previous Towers can now be earned from Fights
Slightly decreased the chance to get more than one of the same Konsumable from Chests
Increased the chance to get an Invigorating Stone or Revive Stone from Rare and Epic Chests
Fights for Normal Difficulty have been adjusted to be slightly easier
Other
Fixed a case where Players could get stuck during combat unable to perform any actions.
Fixed a crash when quitting the battle with Boss MK11 Shang Tsung.
Fixed a crash when opening the system Notification menu during the game boot process and while loading into Fight.
Fixed an issue where some devices had part of loading screen shown during the Legal screen being displayed.
UX/UI
Fixed a bug in Main Menu where Krypt Attempts were not updated after Krypt Attempts Reset timer expiration.
Fixed an issue with Equipment filtering wasn't working correctly if "Krypt" was selected.
Added detailed information about Featured Characters in Survivor and Krypt Edit Team menus.
Updated display of attempts. Now it is clearer which attempt will be used
Other minor UI fixes.
As always, thank you for playing Mortal Kombat mobile!