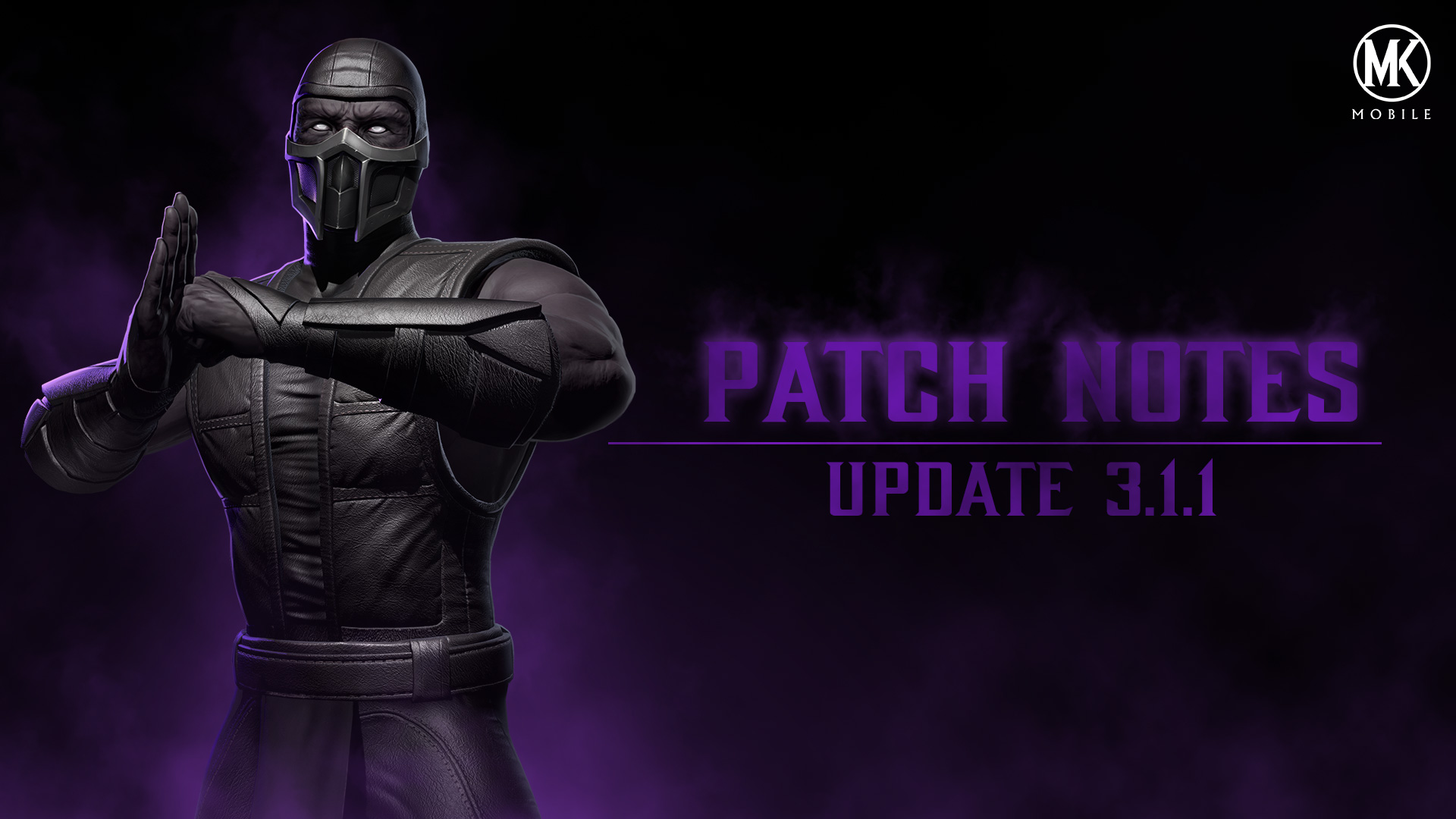 NEW! KLASSIC NOOB SAIBOT
Gold Klassic Noob Saibot is available now as a playable character in Mortal Kombat Mobile! Straight from the Arcade, Klassic Noob Saibot's moves are based on Ultimate Mortal Kombat 3 and Mortal Kombat Trilogy, bringing you moves like GHOSTBALL and TELE-SLAM! His Passive, BLESSED BY THE SHADOW, enhances his Special Attack 1 by making his attacks unblockable (up to 10 seconds) and when Special Attack 2 is performed at 80%+, it activates a continuous chain of Specials Attacks, up to 6 times! Klassic Noob Saibot is the 9th kombatant to join the Klassic Team and brings new series amongst them! Get back to the Klassics now in Mortal Kombat mobile.
BUG FIXES AND IMPROVEMENTS
UI
Fixed an issue where some Character cards could not be moved to the team slots on the Team Edit screen.
Fixed an issue where Player's Battle Rating was not visible on Season Rewards screen and Leaderboard menu
CHARACTERS
Fixed soft lock that occurred after killing morphed MK11 Shang Tsung
Fixed the bug where MK11 Shang Tsung immediately attacked the enemy after closing morphing options UI
Fixed the game crashes that occurred when enslaved MK11 Shang Tsung defeated the player's team
Fixed improper Boss MK11 Shang Tsung behavior in a morphing state
Fixed an issue when MK11 Kabal Special Attack 1 did not work properly on some Characters
Fixed an issue when MK11 Kabal's "Faster Than You" passive did not work even if he resisted Weather Warfare freeze effect.
Fixed an issue with Hellspawn Scorpion's Special Attack 1 that did not KO the opponents
Fixed an issue when Klassic Mileena did not throw a third Sai after getting 90%+ on her Special Attack 1 minigame
Fixed an issue when Black Dragon Tremor did not deal damage on a few first hits of his Special Attack 2
Fixed an issue when High Tech Jacqui Briggs's passive feature "All Spec Ops teammates have +20% increased power generation" did not work
Fixed the bug that allowed Konqueror Shao Kahn to use his passive "Culling the Weak" against the Bosses
Fixed an issue where Klassic Sub-Zero's Special Attack 2 sometimes didn't deal any damage to the enemies
Fixed the problem with Klassic Scorpion's Special Attack 1 that didn't KO enemies, that were blocking attacks
Fixed a bug where Kold Scorpion didn't gain Shield if an opponent was KO'ed with the first hit of Scorpion's Special Attack 2.
Fixed multiple issues that caused soft lock because MK11 Shang Tsung's Passive "Doppelganger" was not working properly with other Characters' abilities and attacks.
Fixed a game crash that sometimes occurred after Vampiress Mileena used her Special Attack 1.
Fixed an issue where mini-game speed did not increase correctly when Klassic Sub-Zero started his Special Attack chain.
Fixed Venomous D'Vorah's Special Attack 1 that didn't apply Poison effect to the enemies.
EQUIPMENT
Fixed the bug of Bloodmaster's Bloody Finka FX feature "DOTs can Critically Hit" that did not work with Equipment cards that boosted Critical Hit damage
Fixed the bug that allowed all Characters on the team use Telogreika FX feature "Gain invulnerability while Frozen". Now only the wearer can benefit from it.
OTHER BUGS
Fixed broken Quest restrictions and the issue where any restricted Character could be added to the Quest
Season rewards have been slightly increased in Faction Wars:

Apprentice I - now 20 Blood Rubies instead of 10
Kombatant II - now 2 Uncommon Equipment cards instead of 1
Included Support card in all Season Ranks reward pools
As always, thank you for playing Mortal Kombat Mobile!