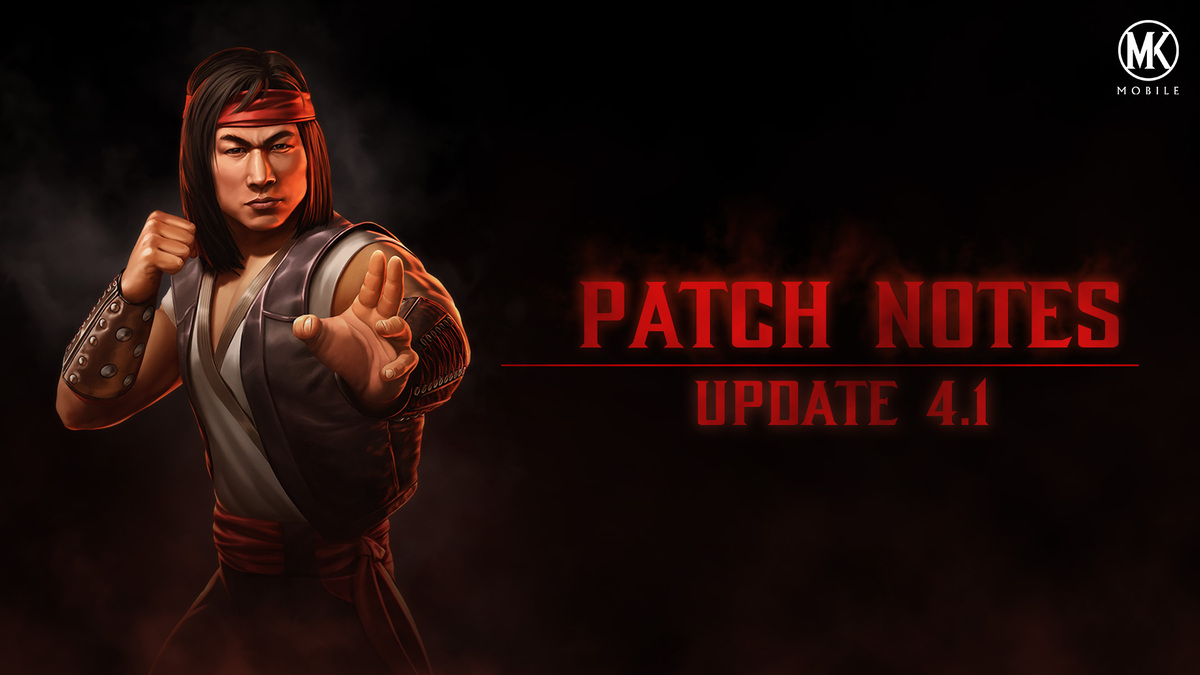 Table of kontents
NEW! MK11 LIU KANG
The Champion of Earthrealm is koming to Mortal Kombat mobile! Diamond MK11 Liu Kang is a skilled martial artist who is honored by many as one of Earthrealm's greatest warriors. Liu Kang is a versatile ally who introduces new MK11 team synergies and fights off enemies with unblockable moves and hard Nunchaku hits. Available starting on December 9th!
BO' RAI CHO'S DIVINE ADVENT CALENDAR
Season's Greetings, Kombatants! The annual Mortal Kombat mobile Holiday Advent Calendar has officially begun. Check your inbox every day from December 14th to December 25th to unlock free stocking stuffers and mystery gifts from Bo' Rai Cho. Thank you all for being a part of the kommunity.
KOMBAT PASS: SEASON 2
The second season of the new Kombat Pass feature has arrived with a new featured character and several quality of life improvements. The featured character available for Ascension is Gold Kombat Cup Sonya Blade! Head over to the Kombat Pass to start knocking out Trials and earning rewards.
NEW! WHITE LOTUS TOWER
Introducing the new, limited time only White Lotus Tower event featuring MK11 Liu Kang as the main Boss! The White Lotus is a secret society who protects Earthrealm from outside invaders. It is your mission is to break into the White Lotus, find out their secrets, and reap the benefits. Win battles for a chance to earn brand-new White Lotus Tower Equipment like the Shintai of Malice, and earn a guaranteed Diamond character when you defeat the Tower!
NEW CHALLENGE! KLASSIC SMOKE
The new Challenge awaits! Prepare yourselves for the new Challenge to earn the final reward - Gold Klassic Smoke Character Card. Stay tuned for updates as the new Klassic Smoke Challenge will be soon awaiting daring Kombatants to join the fight!
QUALITY OF LIFE
Save your time on Quest Repeats!
We have introduced a new and easy way to repeat Quests. Now all you need to do is go through a few simple steps to replay the Quest.
Manage your Characters' Equipment more efficiently!
While managing your Character's Equipment, you can now switch between all Characters from your Kollection or your current Team without returning to the previous screen.
Speed up your Tower playthrough!
We have introduced an option to skip the Tower animation between ladders. This will reduce the waiting time in between battles. You can turn off the Tower animation through the settings menu.
BUG FIXES & OPTIMIZATIONS
CHARACTERS
Fixed an issue of Resurrection Modifier being able to Resurrect characters twice if they were revived by Lizard Noob Saibot.
Fixed tag-in attacks of Strike Force Cassie Cage and Stunt Double Johnny Cage not being counted as lethal if being tagged-in during Klassic Movie Raiden's accumulation of Thunderstorm Energy.
Fixed Kosplay Jacqui Briggs' SP2 as Scorpion not K.O. opponents with low health.
Fixed an issue for Jason Voorhees where his special abilities do not activate properly if used during his resurrection animation.
Fixed the sounds of Assassin and MK11 Skarlet's Combo Enders and MK11 Skarlet's Rain of Blood passive ability.
EQUIPMENT
Fixed an issue of disabled swapping if tagging out while Movie Set Star's Animatronic is active.
Fixed Craftsman's Pride Fusion X effect disappearing only for the wearer upon breaking.
UX/UI
Fixed the Trials menu scrolling.
Fixed the displayed timer inside the Aftershock Tremor challenge.
Fixed the displayed timer inside the Faction Wars.
Fixed Fusion Boost visuals disappearing in the pre-fight menu.
Fixed shaking zoom-in animation inside the Quest Mode menu.
Added a possibility to filter the Equipment by Broken status inside the Kollection.
Redesigned Duplicate Cards visuals.
Other minor UI fixes.
OTHER
Fixed a crash occurring while performing the Friendship inside battles with the Time modifier.
Fixed Faction Wars crashing between battles.
Fixed low graphics presets being assigned to the newest iOS devices.