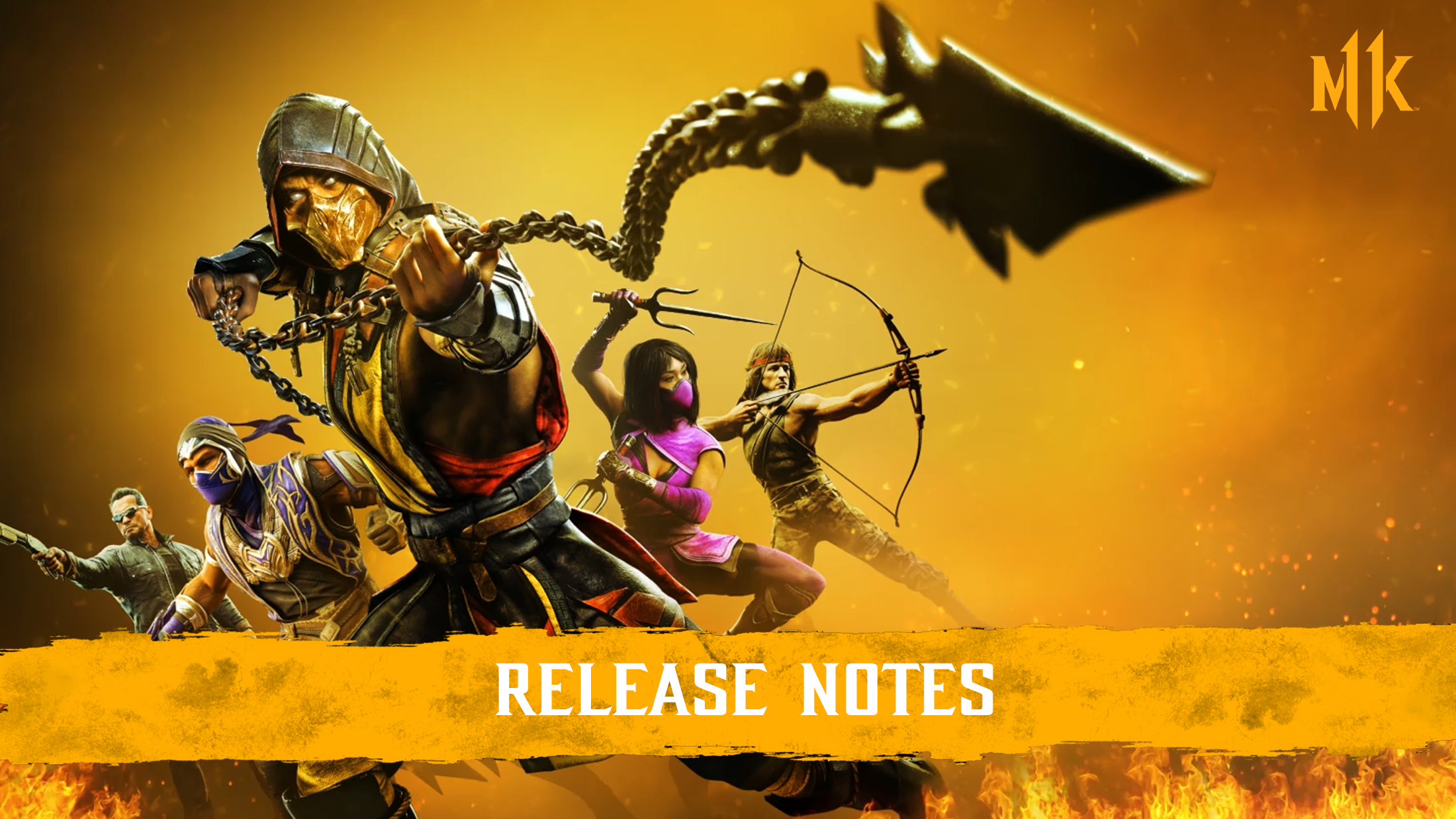 Below are the release notes for the 11/24 Mortal Kombat 11 Ultimate update on PlayStation 4, PlayStation 5, Xbox One, Xbox Series X|S, Nintendo Switch, PC, and Google Stadia:
Klassic MK Movie Skin Pack
Added new character skin variants based on the original "Mortal Kombat" film featuring the voices and likenesses of three main actors from the 1995 movie, including Christopher Lambert as "Protector of Earthrealm Raiden," Linden Ashby as "Hollywood Kombatant Johnny Cage" and Bridgette Wilson-Sampras as "Island Bound Sonya Blade."
Available now digitally for $5.99 (SRP).
General Gameplay Adjustments
Fixed an issue that was causing Abilities to be locked in Practice Mode's Player Select if someone started the game using a new Player Profile and immediately went into practice mode.
Minor graphical performance optimizations on next generation consoles
Character Specific Adjustments
Kung Lao - Possessed Hat now plays the correct audio


Mileena - (Air) Soaring Sai now correctly displays Punish instead of Kounter when hit during recovery and is no longer throw immune during some of its landing frames
Mileena - Fixed a rare issue with Vanish invisibility not being applied if it is used at specific timing while Shang Tsung is performing Soul Swap
Mileena - Fixed a rare issue with Kahnum Dash Amplify that could cause some cloth to use an incorrect animation
Mileena - Fixed a rare audio issue with Sai Blast while modified by augments


Rain - His Katar will no longer sometimes become invisible if Katar Toss is interrupted at specific timing
Rain - Fixed issues with several special moves not having damage adjusted by Augments correctly


Rambo - Claymore is no longer effected by projectile immunity
Rambo - Fixed issues with several special moves not having damage adjusted by Augments correctly
Related Articles
To learn more about Mortal Kombat 11 Ultimate, the latest installment in the iconic Mortal Kombat franchise developed by NetherRealm Studios, visit MortalKombat.com or join the community conversation on Twitter (@MortalKombat), YouTube (Mortal Kombat), Twitch (NetherRealm), Instagram (@MortalKombat), Facebook (MortalKombat) and Discord (MortalKombat).