Introduction
Ready to test your might? Kombat League is a seasonal ranked mode where players compete against each other over the course of several weeks to earn exclusive in-game rewards. Kombatants are matched up against similarly skilled opponents in best 2 out of 3 sets while progressing through nine ranked tiers that begin with Apprentice and end with Elder God. Each win will get you one step closer to the next rank, but you will need to remain vigilant as Kombat Points start to decay after 72 hours of inactivity.
Included in this article
Season Challenges
Regardless of your rank, Daily and Seasonal Challenges can be accomplished by playing Kombat League match sets. To complete the Daily Challenge, play 5 League match sets per day to earn a reward of Time Krystals.
Seasonal Challenges consist of various objectives that can be performed over the course of several matches. These challenges can include objectives like connecting Fatal Blows during matches, spilling Pints of Blood during matches, completing Daily Challenges, completing all the other Challenges available during a Season, or a variety of other Challenge objectives. For your efforts, you will be rewarded victory poses, brutalities, gear, cosmetic skins, and other rewards!
Seasonal Rank Rewards
Seasonal Rank Rewards are rank based rewards where you can earn Koins, Souls, Hearts, Time Krystals, gear, cosmetic skins, and other rewards as you progress through Apprentice all the way up to Elder God. There are several skins you can unlock each season upon reaching the required minimum Rank. Additionally, by participating in Kombat League, you will earn a Kombat Kard icon and background themed around the current season. The rewards you receive at the end of a season are based on the highest rank you achieved at any point during the season, so don't worry if you ever rank down!
Kombat League Tutorial
With the release of Mortal Kombat 11 Ultimate, all players must go through and complete an online tutorial. This onboarding process will have you fight against 3 AI Scorpion opponents and help you understand how Kombat League points are earned and lost.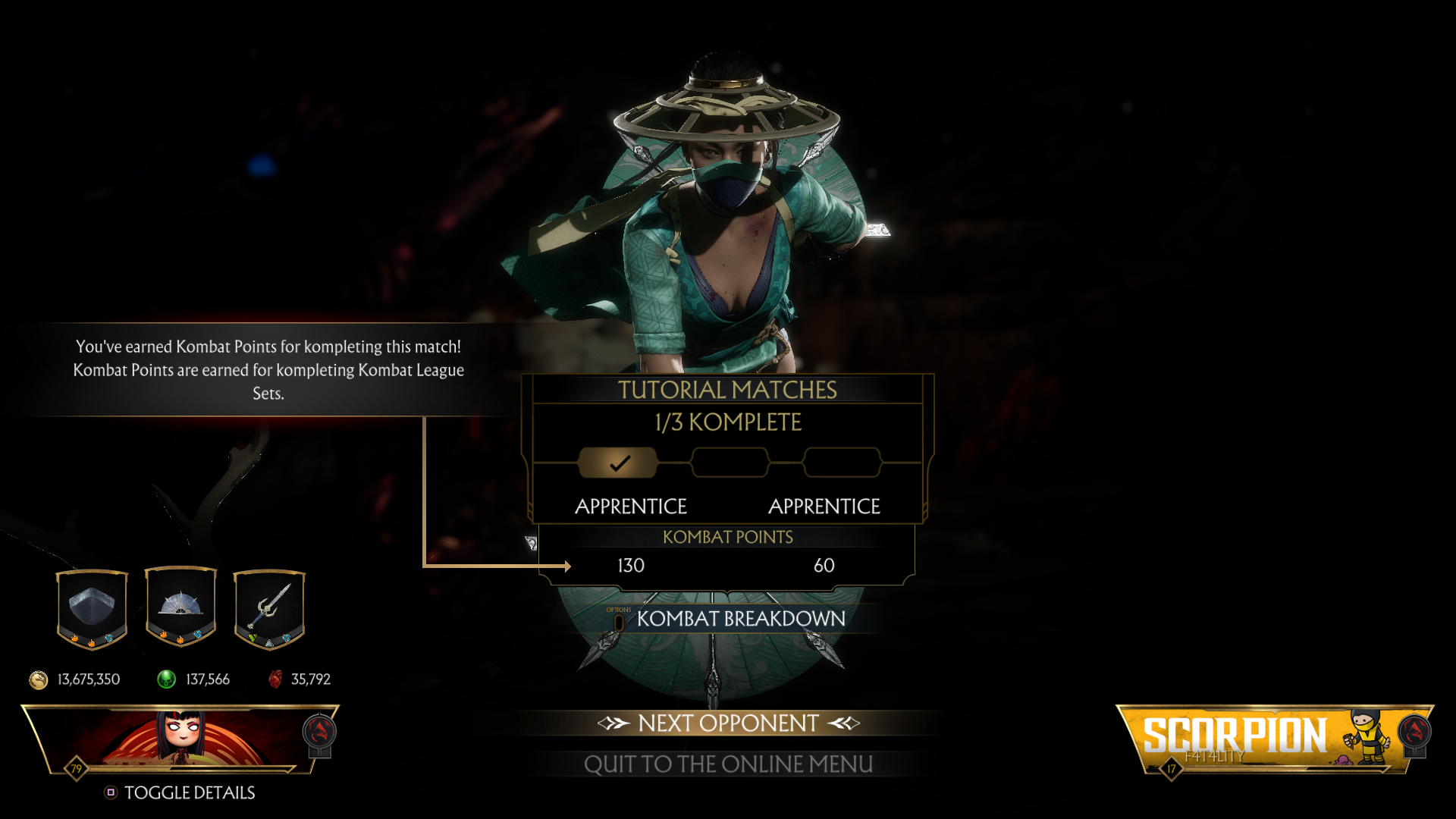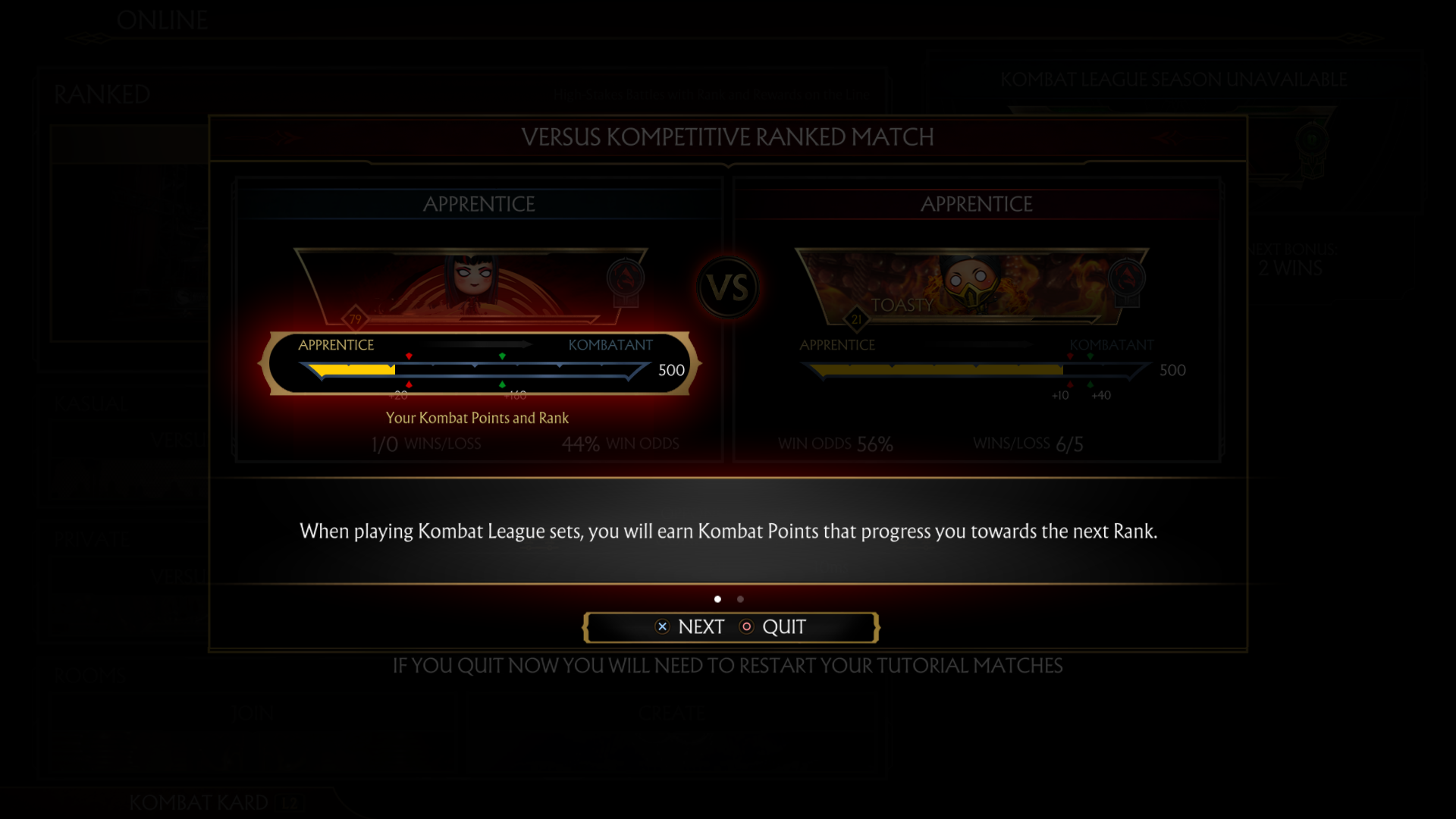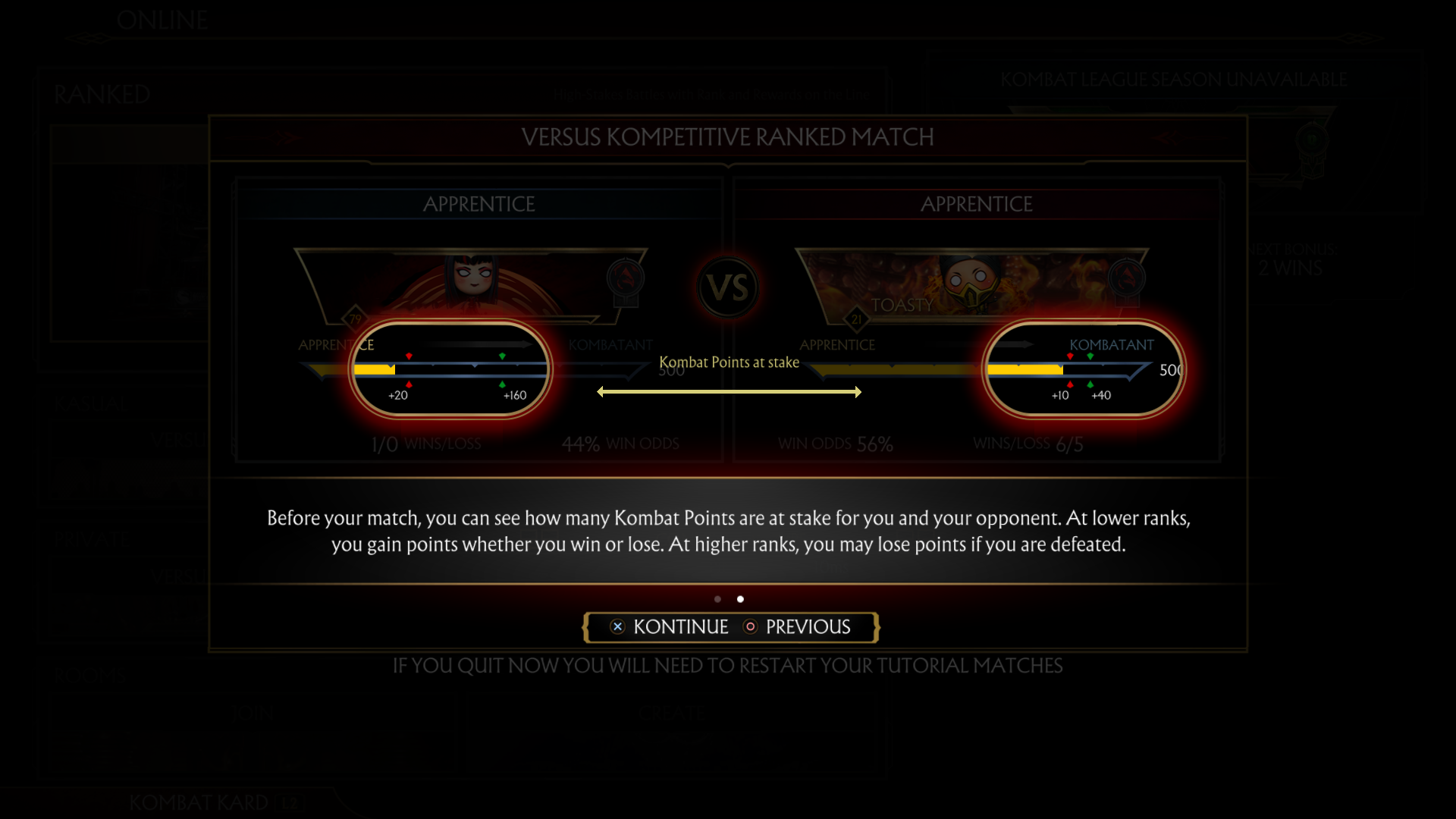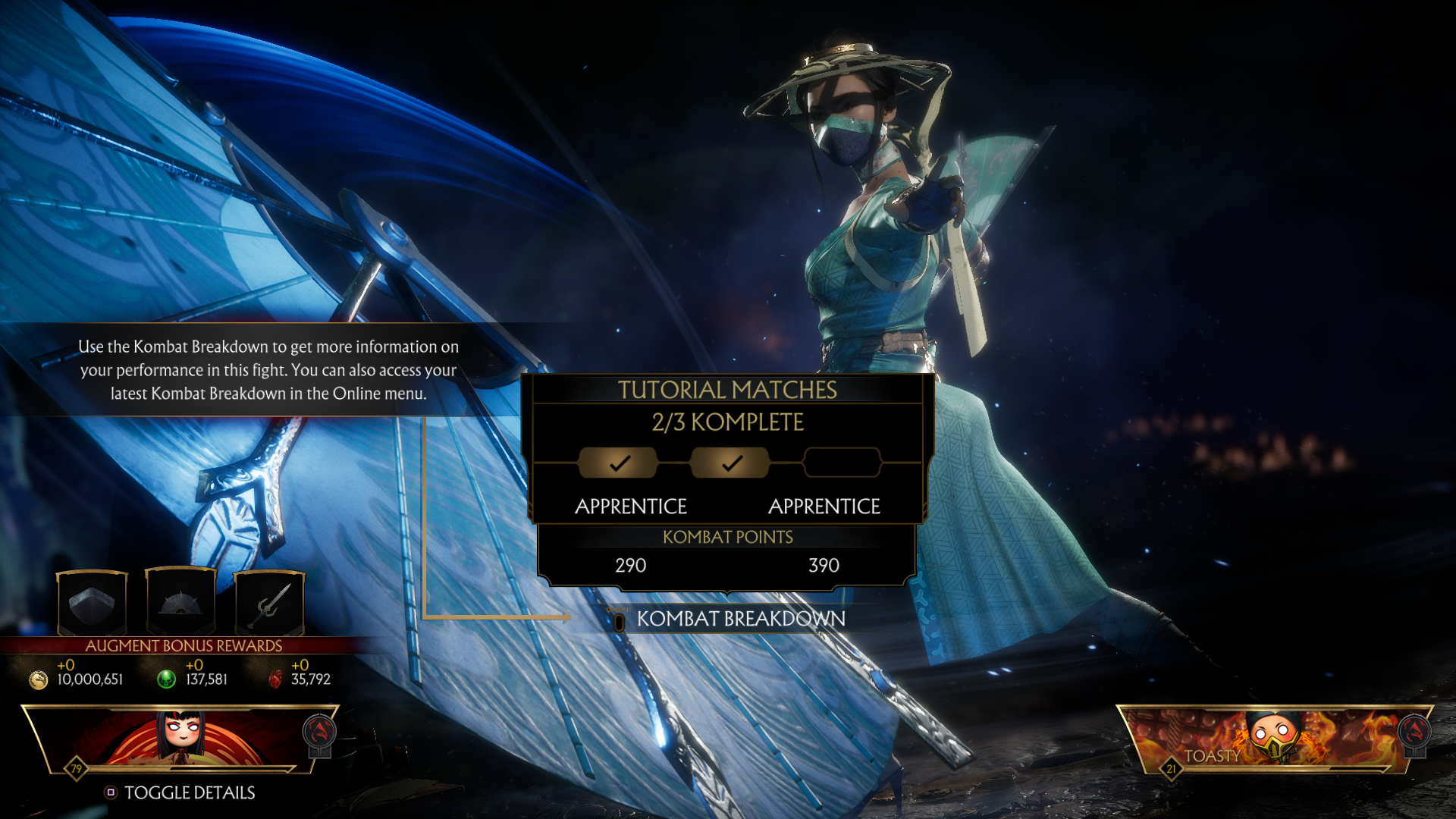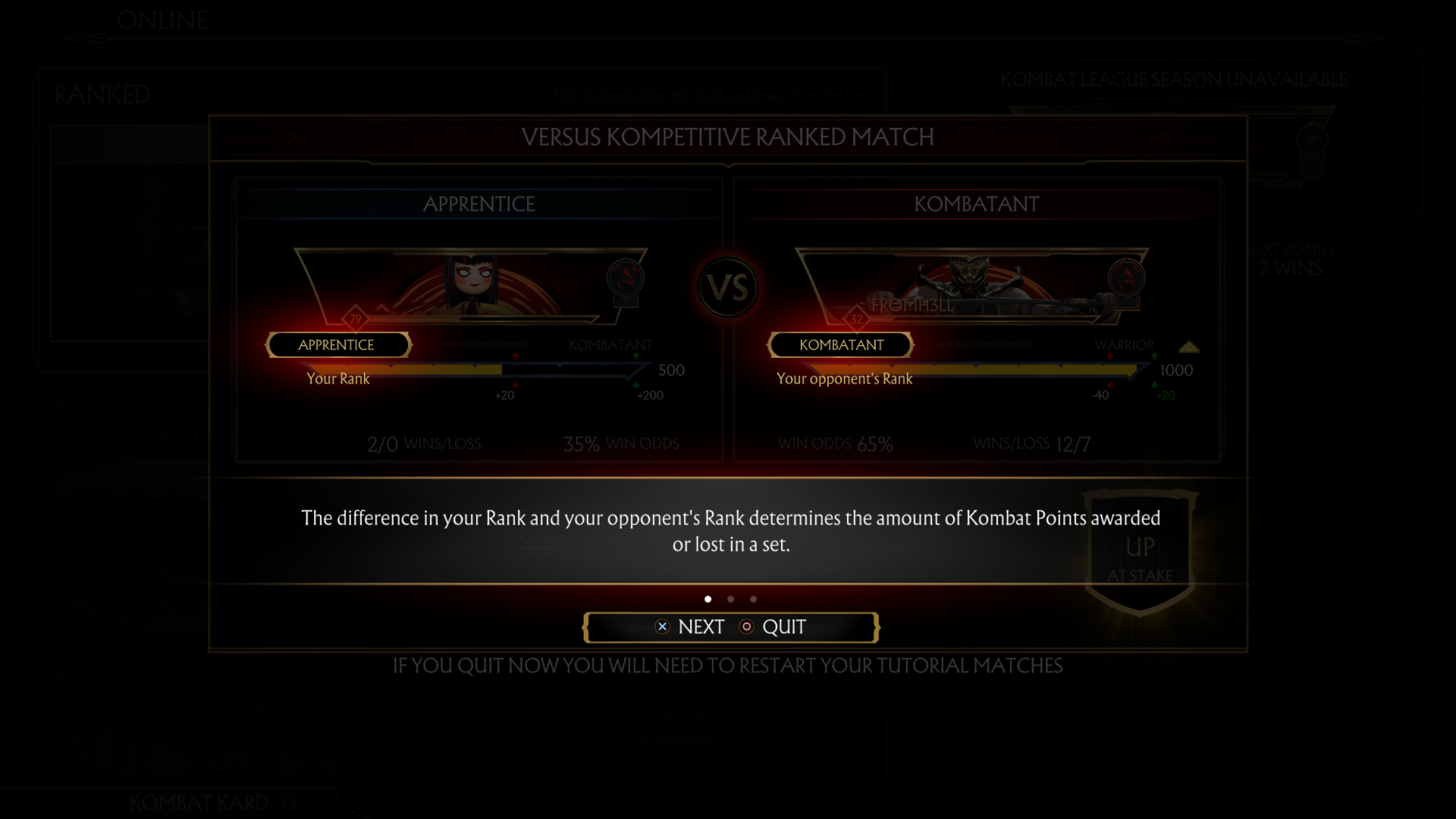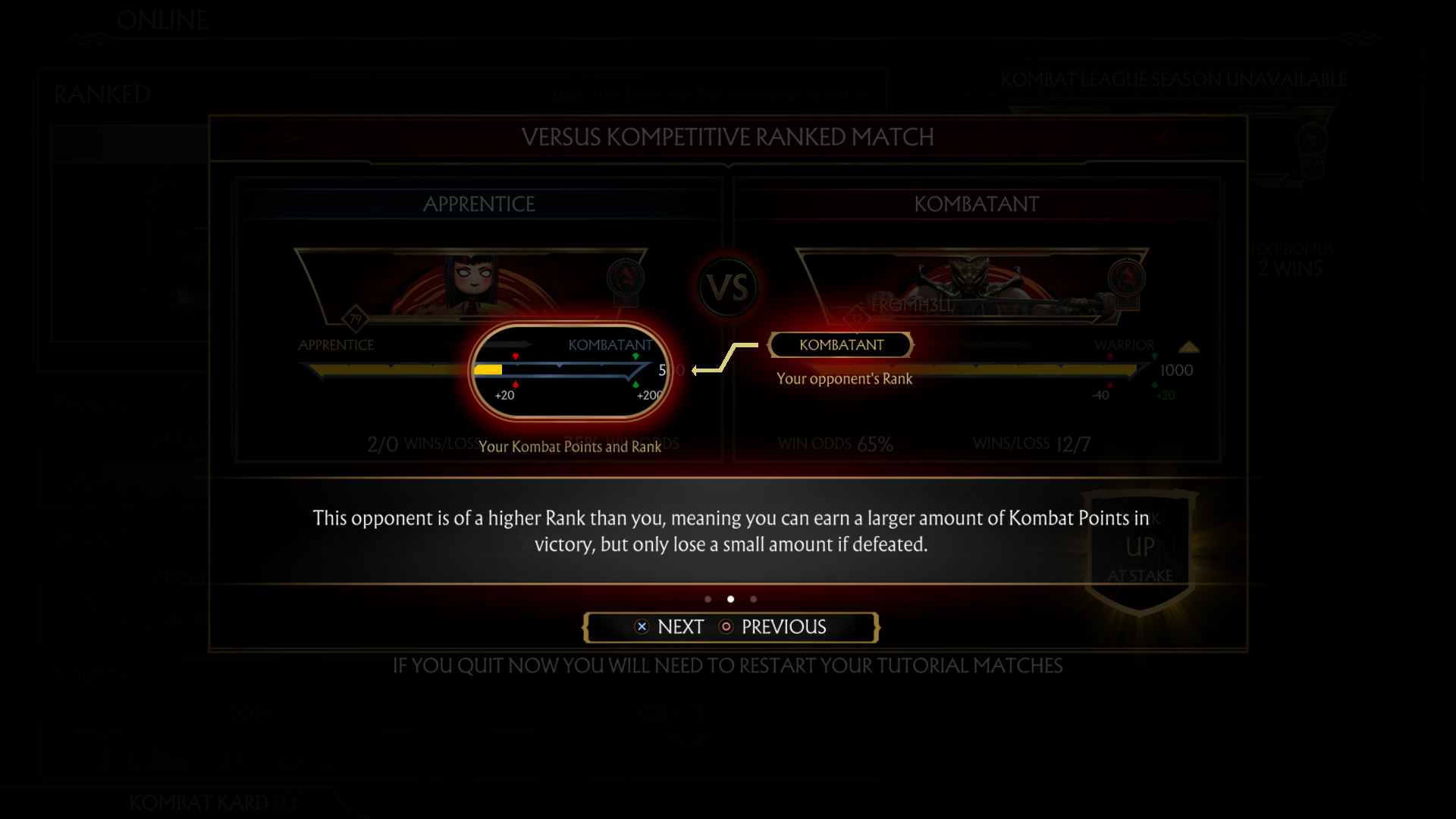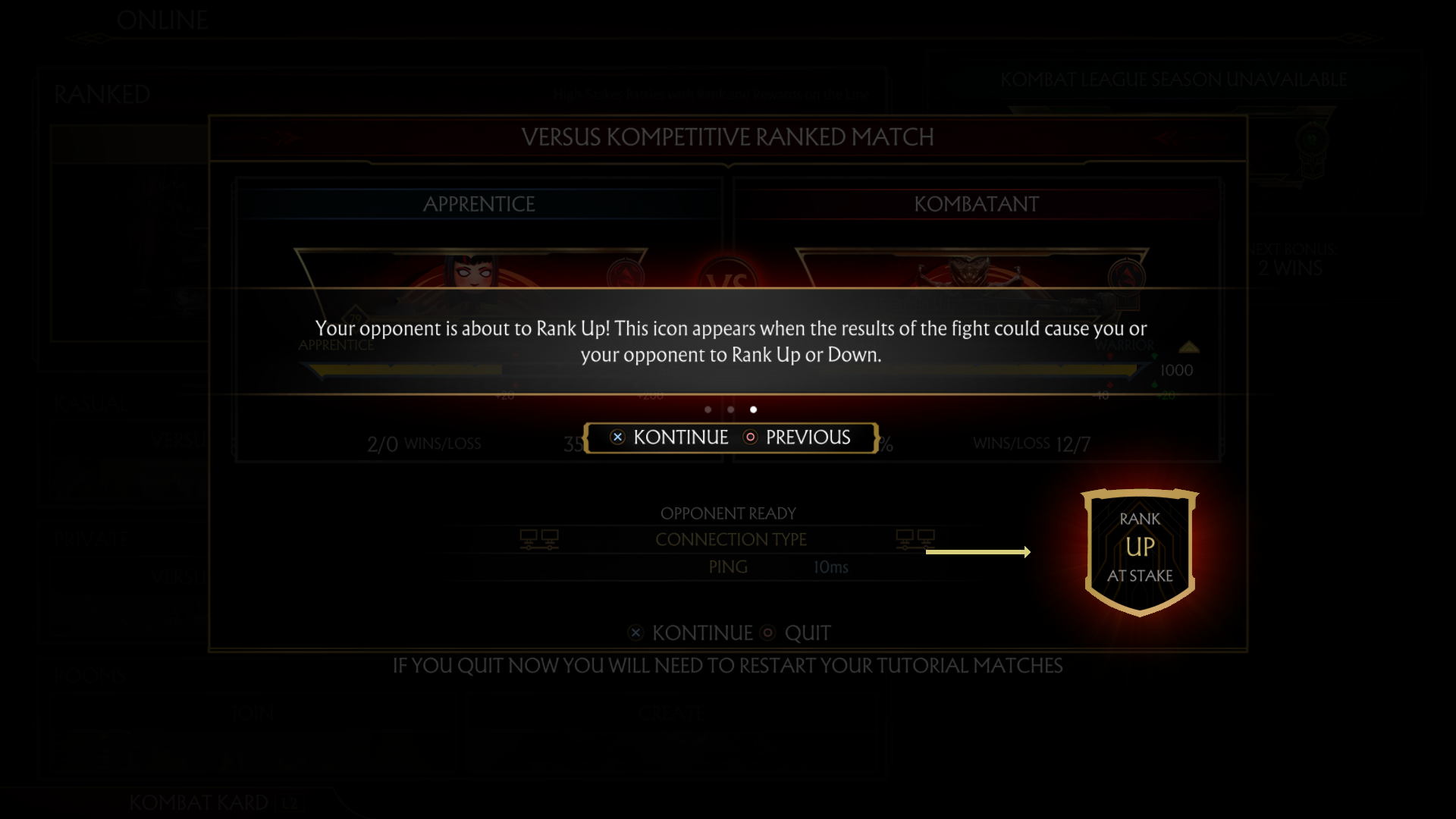 After completing the tutorial, you will be rewarded with Time Krystals and Kombat League points that will be applied to the current season. If no Kombat League season is currently active, the bonus points will be applied to an upcoming season.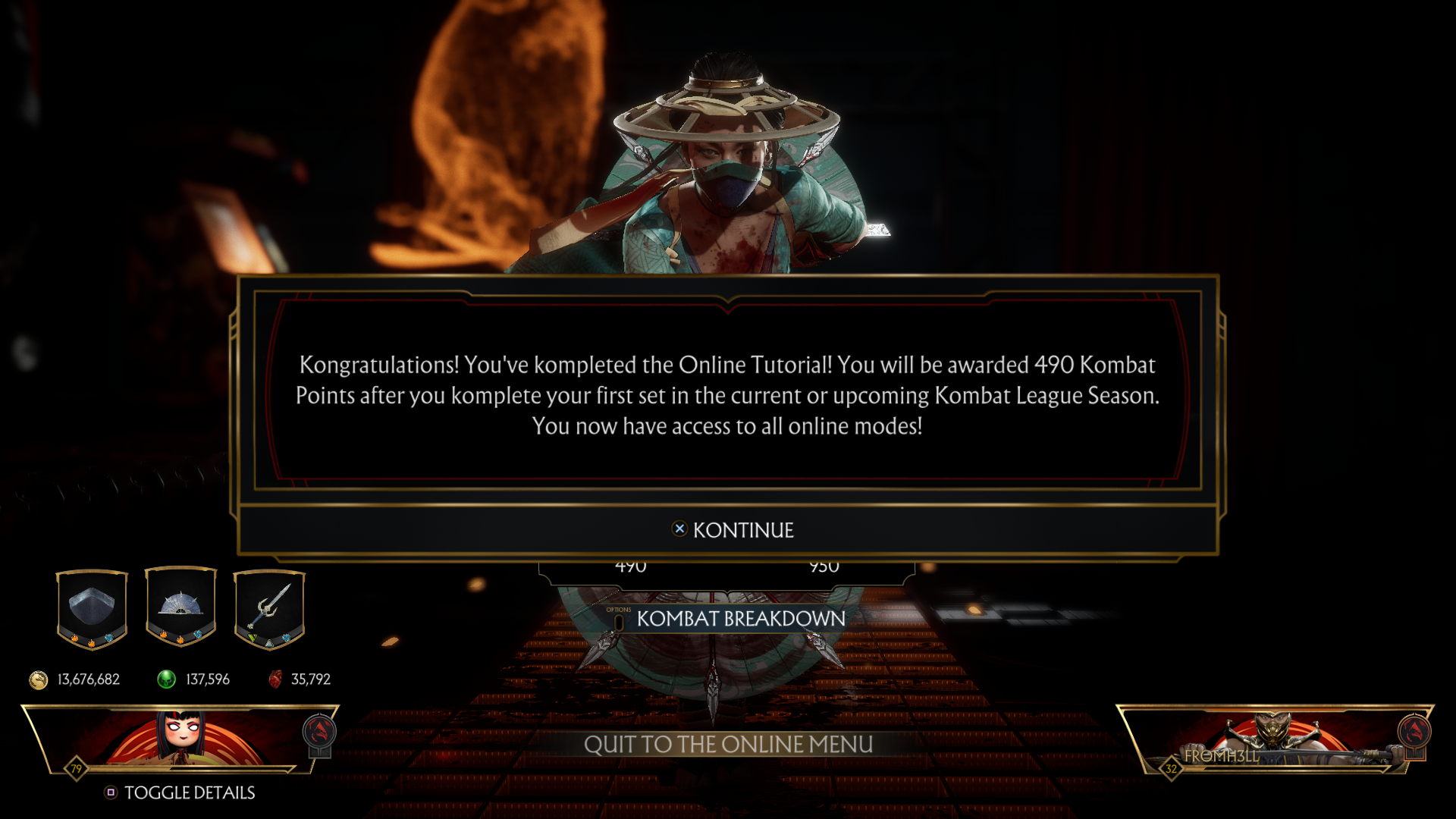 Kombat League Set Overview
Once you have queued for a match and found an opponent, you will be able to see each other's win/loss record, win odds, connection type, ping, and potential points you will gain or lose depending on the results of the set.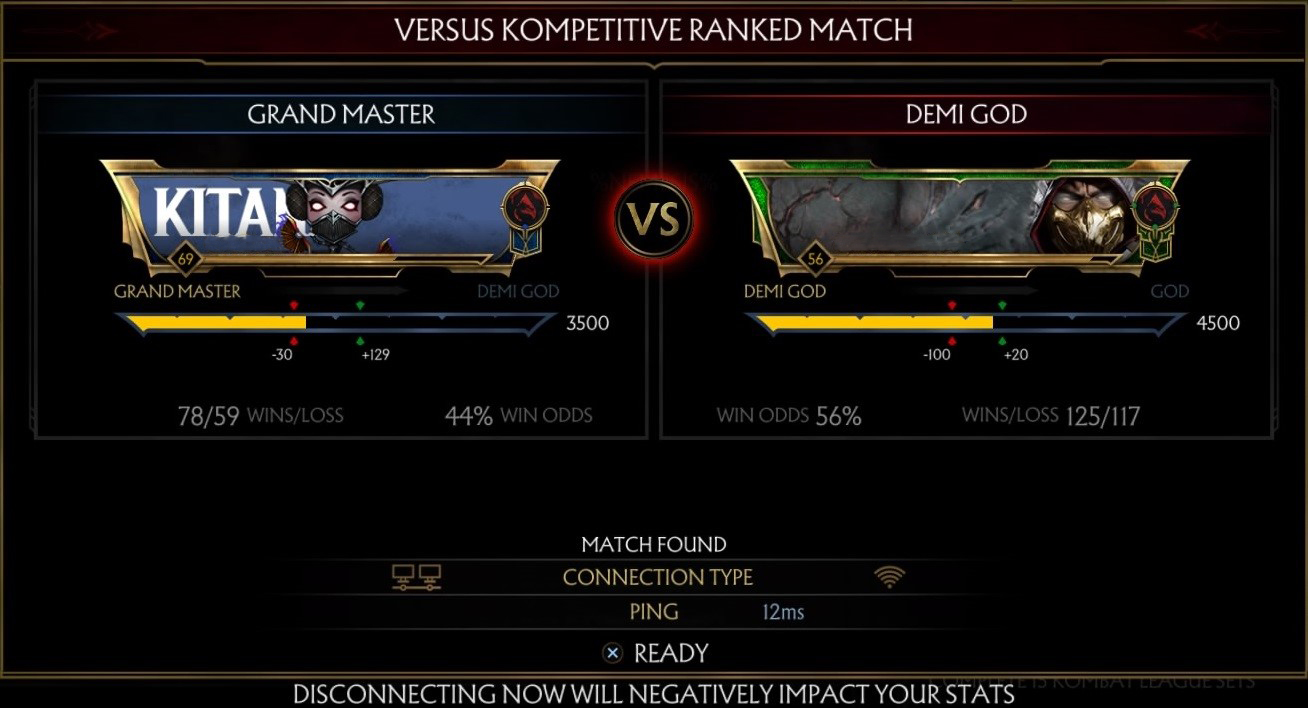 Between each match of a set, the losing playing can rematch using the same character, select a new fighter, or choose to forfeit. During this time, both players can also view the Kombat Breakdown, which lets you see the percentages of the damage dealt from each attack type and informs you on how you might want to approach your next match.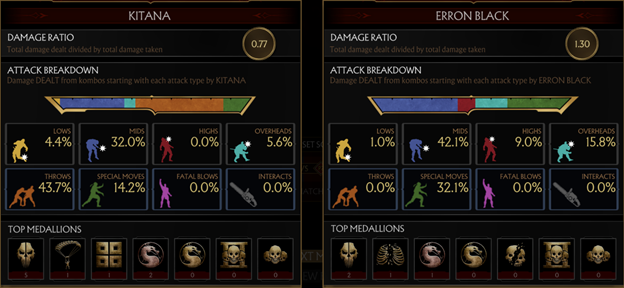 After a player has reached two wins, the set ends and points are awarded to the winner and subtracted from the loser. You will also have the option to invite your opponent to a friendly non-ranked set.

Enter The Kombat League Video Series
The Kombat League can be brutal. Luckily Ketchup and Mustard have all the answers you need!
Episode 1
YouTube - https://www.youtube.com/watch?v=vm2ck0ps9js
Episode 2
YouTube - https://www.youtube.com/watch?v=d6-SznVJZzU
Episode 3
YouTube - https://www.youtube.com/watch?v=A9Q28vgGA6g
Related Articles
To learn more about Mortal Kombat 11, the latest installment in the iconic Mortal Kombat franchise developed by NetherRealm Studios, visit MortalKombat.com or join the community conversation on Twitter (@MortalKombat), YouTube (Mortal Kombat), Twitch (NetherRealm), Instagram (@MortalKombat), Facebook (MortalKombat) and Discord (MortalKombat).