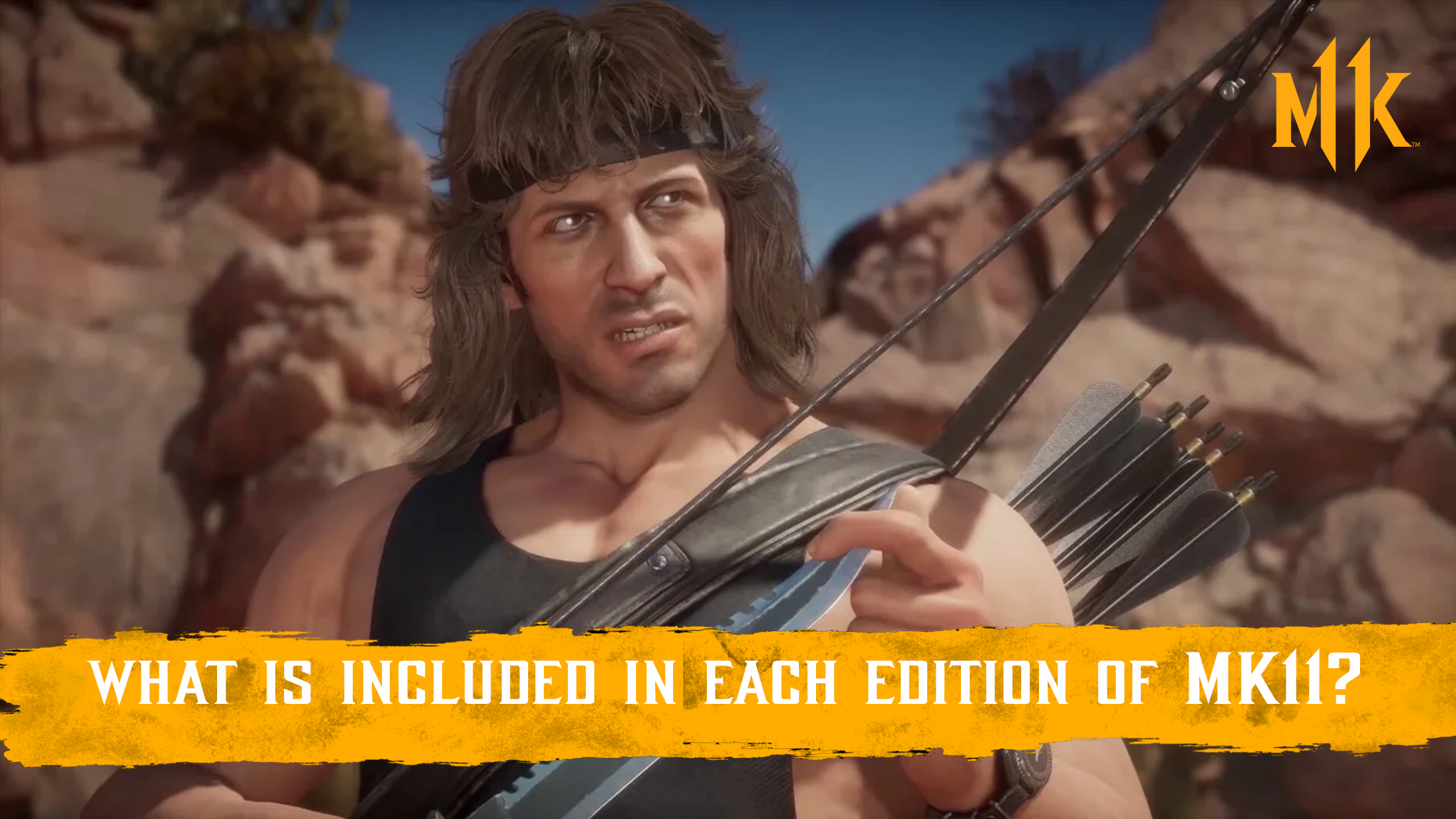 Table of Contents
Standard Edition
Mortal Kombat 11 main game
Premium Edition
Mortal Kombat 11 main game
Exclusive Steelbook Case (Xbox One and PS4 Physical Premium Edition Only)
Kombat Pack 1

6 Playable Characters

Shang Tsung
Nightwolf
Sindel
Terminator T-800
The Joker
Spawn

Premium Skins and Skin Packs

Klassic Arcade Ninja Skin Pack
Klassic Arcade Fighter Pack
Double Feature Skin Pack
Gothic Horror Skin Pack
DC Elseworlds Skin Pack
Matinee Skin Pack
Ninja Mime Johnny Cage Premium Skin
Shang Tsung Spirit Stealer Movie Skin
War Games Sonya Blade Premium Skin
Cassie Quinn Premium Skin
Geras Time Lord of Apokolips Premium Skin
Hellspawn Jacqui Premium Skin
Kollector's Edition
Mortal Kombat 11 main game
Scorpion Mask Statue (1:1 Scale)
Exclusive Steelbook Case (Xbox One and PS4 Only)
Exclusive Dragon Logo Magnet
Exclusive Gold Demon Scorpion Skin In-Game


1 Skin with 6 Palettes

Ultimate Shirai Ryu
Supreme Grandmaster
Hellfire Ninja
Golden Demon
Spirit of Vengeance
Forged in Fire

Kombat Pack 1

6 Playable Characters

Shang Tsung
Nightwolf
Sindel
Terminator T-800
The Joker
Spawn

Premium Skins and Skin Packs

Klassic Arcade Ninja Skin Pack
Klassic Arcade Fighter Pack
Double Feature Skin Pack
Gothic Horror Skin Pack
DC Elseworlds Skin Pack
Matinee Skin Pack
Ninja Mime Johnny Cage Premium Skin
Shang Tsung Spirit Stealer Movie Skin
War Games Sonya Blade Premium Skin
Cassie Quinn Premium Skin
Geras Time Lord of Apokolips Premium Skin
Hellspawn Jacqui Premium Skin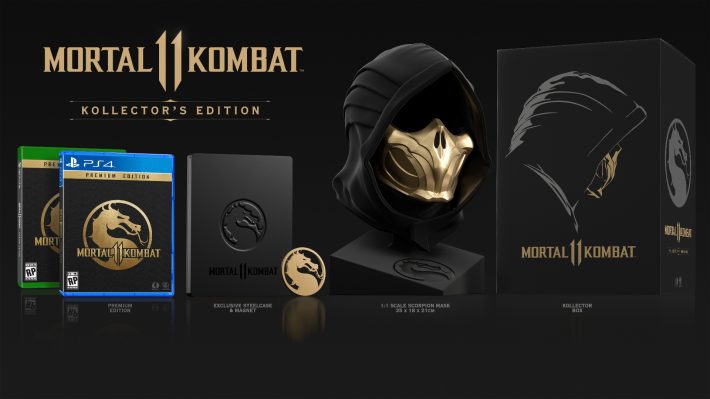 Mortal Kombat 11: Aftermath Kollection
Mortal Kombat 11 main game
Shao Kahn (playable character)
Kombat Pack 1

6 Playable Characters

Shang Tsung
Nightwolf
Sindel
Terminator T-800
The Joker
Spawn

Premium Skins and Skin Packs

Klassic Arcade Ninja Skin Pack
Klassic Arcade Fighter Pack
Double Feature Skin Pack
Gothic Horror Skin Pack
DC Elseworlds Skin Pack
Matinee Skin Pack
Ninja Mime Johnny Cage Premium Skin
Shang Tsung Spirit Stealer Movie Skin
War Games Sonya Blade Premium Skin
Cassie Quinn Premium Skin
Geras Time Lord of Apokolips Premium Skin
Hellspawn Jacqui Premium Skin

Mortal Kombat 11: Aftermath Expansion

Story Expansion
3 Playable Characters
Skin Packs

Summer Heat Skin Pack
Klassic Female Femme Fatale Skin Pack
All Hallows' Eve Skin Pack
Thanks a Million Johnny Cage Skin
Mortal Kombat 11 Ultimate
New players are encouraged to purchase Mortal Kombat 11 Ultimate physical release or digital bundle.
Mortal Kombat 11 main game
Shao Kahn (playable character)
Kombat Pack 1

6 Playable Characters

Shang Tsung
Nightwolf
Sindel
Terminator T-800
The Joker
Spawn

Premium Skins and Skin Packs

Klassic Arcade Ninja Skin Pack
Klassic Arcade Fighter Pack
Double Feature Skin Pack
Gothic Horror Skin Pack
DC Elseworlds Skin Pack
Matinee Skin Pack
Ninja Mime Johnny Cage Premium Skin
Shang Tsung Spirit Stealer Movie Skin
War Games Sonya Blade Premium Skin
Cassie Quinn Premium Skin
Geras Time Lord of Apokolips Premium Skin
Hellspawn Jacqui Premium Skin

Mortal Kombat 11: Aftermath Expansion

Story Expansion
3 Playable Characters
Skin Packs

Summer Heat Skin Pack
Klassic Female Femme Fatale Skin Pack
All Hallows' Eve Skin Pack
Thanks a Million Johnny Cage Skin

Kombat Pack 2
Mortal Kombat 11 Ultimate Kollector's Edition
Mortal Kombat 11 Ultimate
Sub-Zero Mask Statue (1:1 Scale)
Exclusive Steelcase
Exclusive Dragon Logo Die Cut Magnet
Exclusive DLC Avalanche Sub-Zero Skin

1 Skin with 6 Palettes

Avalanche
Redoubtable Lin Kuei
Glacial Grandmaster
Antarctika
Winter Derecho
Knight of Winter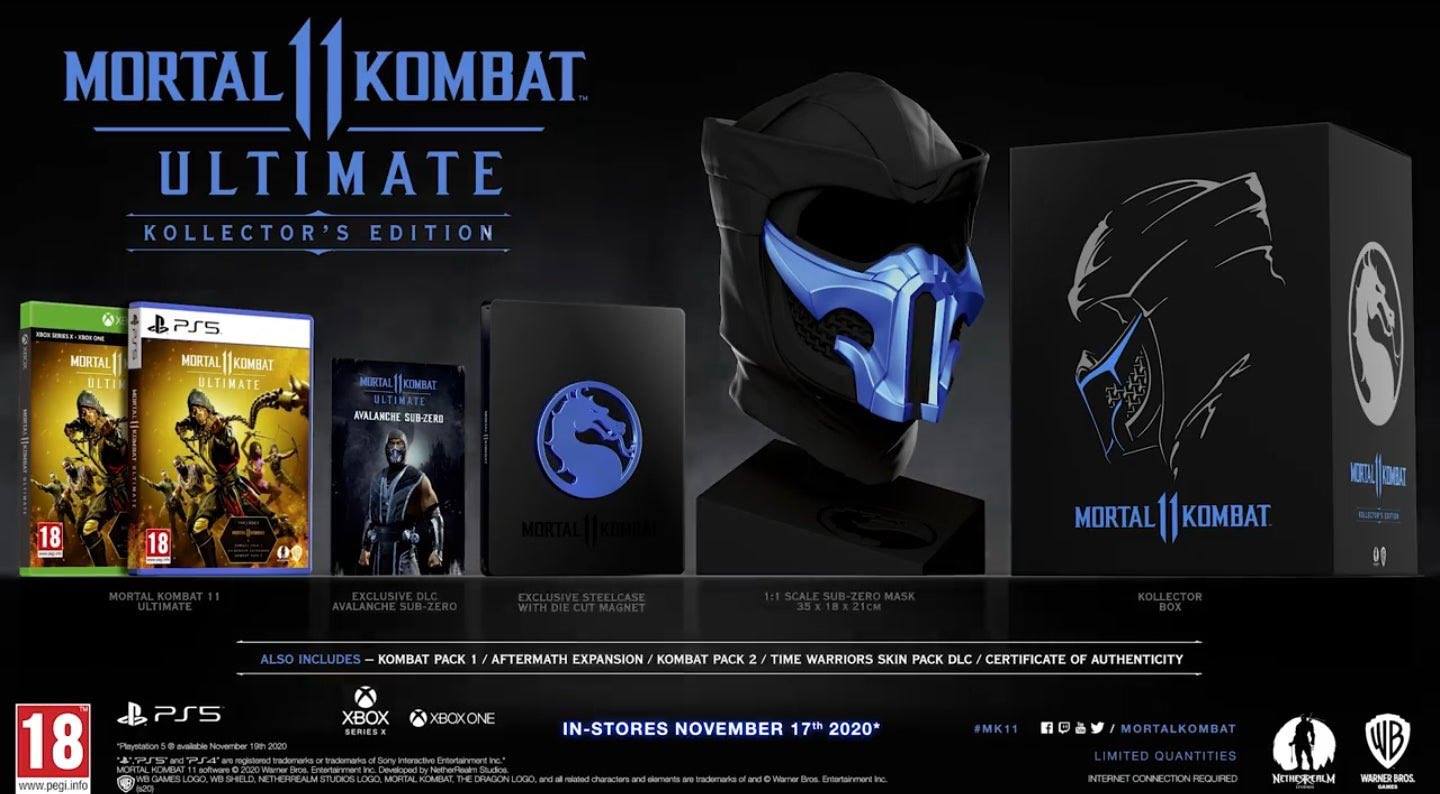 Add-Ons Bundles
Note: Though the Shao Kahn playable character is part of the physical release and digital bundles for Mortal Kombat 11: Aftermath Kollection and Mortal Kombat 11 Ultimate, he is not included in the packs listed below.
Ultimate Add-On Bundle
This digital add-on bundle requires already owning the Mortal Kombat 11 Standard Edition.
Includes:
Kombat Pack 2
Aftermath Expansion
Kombat Pack 1
Kombat Pack 2
3 Playable Characters
Aftermath Expansion
What Is Included In The Aftermath Expansion?
Kombat Pack 1
What Is Included In The Mortal Kombat 11 Kombat Pack 1?
Related articles
For all Mortal Kombat 11 announcements and other related information, please keep an eye on the official Mortal Kombat 11 website and social channels, including www.mortalkombat.com, Twitter (@MortalKombat), YouTube (Mortal Kombat), Instagram (@MortalKombat), Facebook (MortalKombat), Twitch (NetherRealm), Mixer (NetherRealm), Discord (MortalKombat) and Reddit (MortalKombat).